---
Our team works with the news media and digital partners to raise awareness of companion animal care and humane education. If you are a member of the media and wish to discuss this with us, please call 320-252-0896 or email us at pets@tricountyhumanesociety.org. 
TCHS in the News!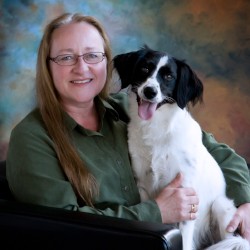 Tri-County Humane Society Executive Director Receives Scholarship
Vicki Davis, CAWA, Executive Director of Tri-County Humane Society in St. Cloud, will attend the 2017 SAWA Annual Conference in Miami, Florida, this November as a Legacy of Leadership Scholarship recipient.
The 2017 conference topics include the National Council on Pet Population 2017 Research Symposium and Human Factors that Influence Pet Acquisition, Ownership, Retention and Relinquishment.
The leaders of the National Council on Pet Population work to facilitate the collection, evaluation, and communication of reliable information to promote positive human-animal interactions, and reduce the number of homeless cats and dogs. This Research Symposium will feature ten highly esteemed researchers' summary of their completed studies and how the findings may be applied at the shelter or community level.
About Vicki Davis, CAWA
Vicki Davis has served as Executive Director of Tri-County Humane Society since 1984. She holds the certification of CAWA (Certified Animal Welfare Administrator), which is designed to distinguish the knowledge, skills and achievements of high-level managers working in animal welfare and protection; to support best practices within the profession; and to broaden the understanding among those making hiring decisions and the general public of the specialized qualifications required to successfully lead non-profit organizations and governmental agencies dedicated to animal care.
About SAWA
SAWA (Society of Animal Welfare Administrators) is a professional network that develops and promotes industry best practices, cultivates collaboration, and brings out the best in animal welfare leaders. We believe that as leaders in animal welfare, we are accountable to each other, to the communities we serve, and to the collective impact we seek to make as a profession. It is our intention to establish standards of competence, integrity and professionalism by which we will judge our own work, and which, we hope, will identify us as the best in our field.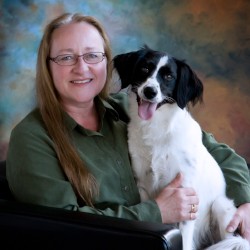 Tri-County Humane Society Executive Director Appointed to National Board
Vicki Davis, Executive Director of Tri-County Humane Society in St. Cloud has accepted a nomination to the Board of Directors of the National Federation of Humane Societies. This group meets typically six times each year, most frequently via conference call with one in-person meeting each year in conjunction with the Annual Membership Meeting and Board Elections. Five Board members are elected each year to serve on a full Board of sixteen members.
Previously Ms. Davis served as a member of the NFHS and worked on the best practices committee. As a board member, she will help to guide the Federation's direction and focus. She offers the board representation of the smaller shelters, most who don't have the resources to be "state of the art", but want to offer "state of the art" care and services for animals.
Active in a variety of regional and national groups, Ms. Davis is also a founding member and serves on the board of MnPAW (Minnesota Partnership in Animal Welfare).
About National Federation of Humane Societies
The NFHS is a trade federation dedicated to representing and advocating for the interests of local animal welfare organizations, animal shelters, rescue groups and animal care and control agencies. The members truly believe this federation for the animal welfare community has tremendous potential to improve animal sheltering and make a real difference in the lives of companion animals.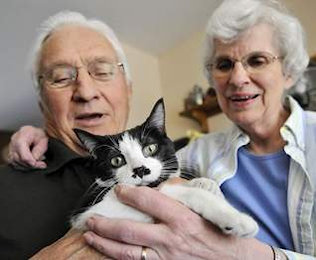 2 months, 4 teeth, cat gets adopted
By Amy Bowen • abowen@stcloudtimes.com • April 8, 2009
Nearly toothless feline, Tia, had spent 2 months at humane society before couple adopted her.
Wyman and Gloria Nelson dote over their new family member, Tia, on Tuesday in their St. Cloud home. Suffering from dental disease, all but four teeth had to be pulled. Tia spent more than two months in the Tri-County Humane Society. (Kimm Anderson, kanderson@stcloudtimes.com)
After nearly two months in the Tri-County Humane Society, Tia, a nearly toothless cat, was adopted Tuesday.
Her new owners, Wyman and Gloria Nelson of St. Cloud, watched as the black-and-white cat meowed and explored her new pad — a comfortable patio home in St. Cloud.
"She checked out every room and closet," Wyman Nelson said.
Tia was surrendered to the humane society Feb. 4, said Vicki Davis, executive director. The average wait time between a surrender and adoption is about two weeks, she said. That means Tia saw lots of cats getting adopted during her two months at the shelter, but no one seemed to notice her.
The cat suffered from dental disease, forcing the humane society to seek medical care for Tia. She had all her teeth, except four canines, pulled.
The benefits of a four-toothed cat can be a pretty difficult sell, Davis said. So the humane society profiled the feline in an appeal for donations that was mailed out last week.
"She's an awesome cat," Davis said. "She had a very nice personality."
The Nelsons are supporters of the humane society and were on the lookout for a friendly feline.
They were immediately drawn to Tia, Gloria Nelson said. She seemed like a perfect fit for the retired couple.
Wyman Nelson didn't realize Tia had been featured in the donation letter, he said.
"I didn't know it was a poster cat," Wyman Nelson said. "She was very friendly."
They picked up their newest addition, took her home and quickly created a list of necessary cat supplies — a scratch pad, toys and a litter box scooper.
Workers at the humane society were ecstatic.
"That made our week," Davis said. "Everybody is happy."
Tia's medical problems don't faze the Nelsons. They already talked to the vet who performed the dental surgery. Tia will be just fine, the couple said. She doesn't require special food.
They're excited to hear her chat at birds outside the window and cuddle up on their laps. Who knows, maybe she'll even sleep with them.
"Our door will be open," Wyman Nelson said.