September 2017: TCHS Cats on Quarantine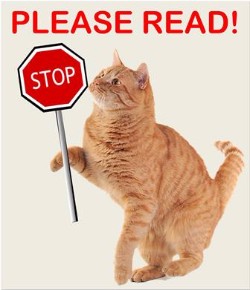 ALL CATS & KITTENS ON QUARANTINE AT TCHS UNTIL FURTHER NOTICE.
On 9/11/17, a stray cat that had been in our care since August 25th was found deceased in it's cage. A test done this morning confirmed Panleukopenia, better known as Feline Distemper. Because this disease is extremely contagious and can spread easily in shelter settings, all cats and kittens are on immediate quarantine until further notice while we assess their health. If you have adopted a feline from us on or after August 25th, our staff will be calling you to see how your cat is doing. With our Back to School Cat Sale, we have 105 calls to make, which might take us a few days! Feel free to call us at (320) 252-0896 with any concerns or, better yet, call your veterinarian to see what they would advise. If you have not visited your vet yet, we highly recommend you do so.
For all cat owners in the St. Cloud area, since Distemper is known to be in the environment we recommend doing your very best to keep your cat(s) indoors and updating their Distemper booster vaccines as needed.
If you are in need of surrendering your cat, please understand that we would love to help you but we have very limited space for new cats. We will be turning our small grooming/get acquainted room into a make-shift cat room for emergency intakes only. For the safety of your cat, we hope you understand.
Cat Quarantine Update

Since Tuesday a total of two adult cats and two separate litters of kittens have tested positive for Feline Distemper. Our sincere thanks to all who have offered their concern, positive thoughts/prayers, and support in the way of donations while we work hard to prevent other cats from getting Feline Distemper. We're hopeful that the worst is behind us, but this was a difficult week and we still have at least one more week to go before we are in the clear. Please keep our kitties and our staff in your thoughts.
WHAT YOU SHOULD KNOW:
Feline Distemper is in the St. Cloud area. It can survive in the environment for up to a year and freezing temperatures do not affect the virus. The best way to protect your cat is to make sure they are up to date on their Distemper vaccinations. This vaccine is extremely effective and cats will be fully protected in as little as 3 days following their vaccination.
WHAT WE ARE DOING:
We have been consulting with ASPCA animal welfare professionals and shelter medicine veterinarian, Dr. Sandra Newbury this week. With their assistance and expertise, we have developed a plan to determine which cats in our care are the most at risk and which ones should be protected thanks to prior vaccinations. Dr. Sandra Newbury's team has also graciously offered to help us analyze blood samples on the high risk cats in our care, so we should have a better handle on if the Distemper cases we have seen were contained or if it is still in our shelter. Samples will be submitted early next week with results by the end of next week.
There are 7 cats with prior vaccine history that Dr. Sandra Newbury's team has deemed completely protected and safe to adopt out at this time. All other cats and kittens will be kept on quarantine through that period and we will not be receiving cats except for strays during this time. All new strays will be kept in a separate, completely disinfected room and certain staff will be asigned to them so as to prevent potential cross-contamination.
Thank you so much for your continued support and help. Our expenses continue to rise, and our income with the lack of cat adoptions has dropped significantly this week. Please consider a donation to help us through this difficult time.
*Our utmost thanks to ASPCA and Dr. Sandra Newbury and team for your very valuable and life-saving assistance!
How You Can Help
Quarantine periods are very costly to animal shelters. Adoption income drops while expenses rise as we analyze and monitor animals for any signs of illness. Please keep the animals in your thoughts during this time, and if it is in your means, all donations are greatly appreciated. Supplies and Donations are needed to get us through this! Visit our Get Involved - Donate page now, or call us: (320) 252-0896.
Use the links below to view our needs lists and shop online for supplies to ship directly to TCHS
---
Our team works with the news media and digital partners to raise awareness of companion animal care and humane education. If you are a member of the media and wish to discuss this with us, please call 320-252-0896 or email us at pets@tricountyhumanesociety.org. 
TCHS in the News!

Chili and Bloody Mary Taste Off! Who got Best In Show?
The 2017 results are in! Best in Show Chili was awarded to Cornerstone Buffet & Restaurant in Sartell and Best in Show Bloody Mary was award to The Red Carpet!
We want to thank everyone who attended our first Annual Bloody Mary and chili cook off benefit for Tri-County Humane Society this past Saturday at The Red Carpet! We raised $1,615 to help animals in need, thanks to the 140 guests who attended this fun event!
A fantastic selection of Chili and Bloody Mary entrees were provided by Red Carpet Martini Lounge​, MC's Dugout​, G-Allen's Restaurant & Sports Bar​, Old Capital Tavern​, House Of Pizza​, Lily's Wings, Burgers & Things​, Olde Brick House​, Cornerstone Buffet & Restaurant​, Cowboy Jack's​ and Howie's Sports Bar and Grill​. We would also like to acknowledge The Place​, who had prepared chili for the contest but unfortunately had to back out at the last minute when their chili tragically hit the floor as they were getting ready to attend our event. (We encourage you to go there and still try it out!)
Following the guest voting period, a judges panel voted on the top two finalists in each category: MC's Dugout and Cornerstone Buffet & Restaurant for chili and Old Capital Tavern and Red Carpet for Bloody Marys. Special thanks to retired Fire Department Chief, Bill Mund, retired St. Cloud Police Department Sergeant, James Feeny, and Cathedral High School President, Mike Mullin for helping us pick the Best in Show!
Visit our Facebook page to see pictures taken at the event, and share your pictures with us! https://www.facebook.com/events/1371681526178379/
Special thanks to Rick Gaetz with The Red Carpet for inviting us to partner with them for this fundraiser for Tri-County Humane Society.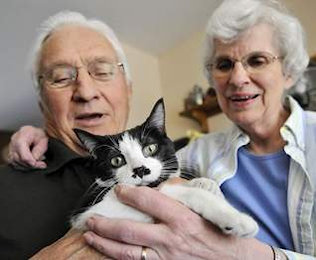 2 months, 4 teeth, cat gets adopted
By Amy Bowen • abowen@stcloudtimes.com • April 8, 2009
Nearly toothless feline, Tia, had spent 2 months at humane society before couple adopted her.
Wyman and Gloria Nelson dote over their new family member, Tia, on Tuesday in their St. Cloud home. Suffering from dental disease, all but four teeth had to be pulled. Tia spent more than two months in the Tri-County Humane Society. (Kimm Anderson, kanderson@stcloudtimes.com)
After nearly two months in the Tri-County Humane Society, Tia, a nearly toothless cat, was adopted Tuesday.
Her new owners, Wyman and Gloria Nelson of St. Cloud, watched as the black-and-white cat meowed and explored her new pad — a comfortable patio home in St. Cloud.
"She checked out every room and closet," Wyman Nelson said.
Tia was surrendered to the humane society Feb. 4, said Vicki Davis, executive director. The average wait time between a surrender and adoption is about two weeks, she said. That means Tia saw lots of cats getting adopted during her two months at the shelter, but no one seemed to notice her.
The cat suffered from dental disease, forcing the humane society to seek medical care for Tia. She had all her teeth, except four canines, pulled.
The benefits of a four-toothed cat can be a pretty difficult sell, Davis said. So the humane society profiled the feline in an appeal for donations that was mailed out last week.
"She's an awesome cat," Davis said. "She had a very nice personality."
The Nelsons are supporters of the humane society and were on the lookout for a friendly feline.
They were immediately drawn to Tia, Gloria Nelson said. She seemed like a perfect fit for the retired couple.
Wyman Nelson didn't realize Tia had been featured in the donation letter, he said.
"I didn't know it was a poster cat," Wyman Nelson said. "She was very friendly."
They picked up their newest addition, took her home and quickly created a list of necessary cat supplies — a scratch pad, toys and a litter box scooper.
Workers at the humane society were ecstatic.
"That made our week," Davis said. "Everybody is happy."
Tia's medical problems don't faze the Nelsons. They already talked to the vet who performed the dental surgery. Tia will be just fine, the couple said. She doesn't require special food.
They're excited to hear her chat at birds outside the window and cuddle up on their laps. Who knows, maybe she'll even sleep with them.
"Our door will be open," Wyman Nelson said.