Working Cats: What Are They, And How You Can Help!
Tri-County Humane Society often has "working cats" (or barn cats) who are looking for good outdoor homes. For whatever reason, these cats would NOT make good indoor pets. Working cats are spayed/neutered, vaccinated, and their adoption fee is "Name Your Own Price"*. 
What to Know:
Can I pet a working cat? While some are semi-social, many want nothing to do with humans because they are feral. While you may not be able to directly interact with them, you can still make a difference by providing a good outdoor home.
How do I keep a working cat close to home? Confine them for two to four weeks and feed them so they associate the home with food. It helps to adopt in pairs, too!
What is a good shelter for a working cat? A barn, shed, garage, etc. TCHS staff members will advise the prospective working cat adopter to ensure the shelter is adequate for the cat.
A shelter setting can be very stressful for a feral or semi–feral cat; they are not happy being indoors, and it's inhumane to keep them in a shelter for an extended period of time. That's why our calls on social media to adopt them may at times sound urgent—if TCHS can't be humane, that goes against our principles, of course!
Working cats also will need a food supply, but don't worry—that will NOT stop them from hunting!
*At TCHS, working cats are "name your own price." That means if you want to pay $100, we'll gladly take it! If you want to pay $1, that works, too. We would love to get some money for them to cover the costs of their care, but it's also important to us that they find a good outdoor home as soon as possible.
For more information on this program or to be placed on a waiting list for a working cat, call Tri-County Humane Society at 320-252-0896.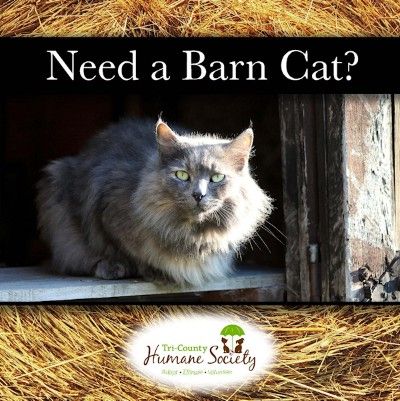 Working Cat Terminology
Stray cat: A cat, likely found outside, who may or may not have a home. When brought to Tri-County Humane Society, we are obligated by law to advertise them for at least five days to try to find an owner. If they are unclaimed, they legally become ours and go up for adoption.
Outdoor cat: A cat who lives 100 percent outdoors; it may or may not be friendly to humans.
Feral cat: A wild, untamed cat who will likely never appreciate a human's company. All feral cats live outdoors, but not all outdoors cats are necessarily feral. If a cat will let you come close to it or touch it, it is NOT feral.
Ways to Help Working Cats
Adopt them! (Again, they do best in pairs/small groups.)
Spread the word about our program to friends who live in more rural areas!
Thinking about bringing a feral cat to a shelter? Please don't! Instead, read this