Our Mission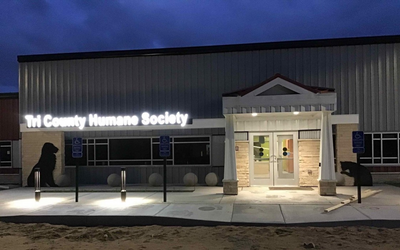 We believe in the human-animal bond and exist to support the animals and people of Central Minnesota by practicing and promoting quality animal care, offering compassionate customer service, and providing humane education. 
We Are An Open Admissions Shelter

Open admission animal shelters like Tri-County Humane Society accept all pets that arrive at their doors, regardless of age, health, color, breed, temperament or "adoptability", with the exception of dogs or cats that have bitten and broken skin within the past 10 days unless they were previously adopted from our shelter.
Tri-County Humane Society (TCHS) operates an independent nonprofit animal shelter in St. Cloud, Minnesota. TCHS has been providing quality services to the people and animals of Central Minnesota since 1974.
Some of our services include care for homeless animals, pet adoption, pet lost and found, and humane education. We also provide knowledgeable answers to questions regarding pet care, behavior, and many other animal-related issues.
---
History and Growth of TCHS
The Beginning

Before 1974, several concerned residents took unwanted pets into their homes, but they could not keep up with the need.

1974 - Incorporation!

TCHS incorporated on Dec. 11, 1974, as a nonprofit organization to care for homeless pets and to promote the humane care and treatment of animals.

1976 - Our First Shelter

In 1976, community members and businesses rallied to provide donated materials and labor to remodel a vacant gas station and turn it into an animal shelter.

Against All Odds

The building had 10 old-fashioned dog kennels, 12 puppy cages and 12 cat cages.
And on occasion, it flooded.

1989 - New Building

On May 15, 1989, TCHS moved into a new custom-designed animal shelter in its current location (8th St. NE, St. Cloud).

1999 - Adding On

In 1999, after years of planning and saving, TCHS built on an addition that provided more storage space, office space, a laundry room, expanded small animal and stray housing, separate dog and cat isolation rooms, and an examination/surgery suite.

2008 - Training Building

In September 2008, a new training facility was built behind the shelter for dog obedience, problem-solving, and tricks classes.

2010 - Training Building becomes Surgery Building

In October 2010, the decision was made to stop dog training classes and turn the training facility into a surgery suite for spaying and neutering shelter animals.

With the "No Pet Left Undone" initiative in full swing by August 2011, TCHS became 100 percent compliant with spaying and neutering all dogs, puppies, cats, kittens and rabbits before adopting them out; a goal since inception.

2010 - More New Initiatives Implemented

Lowered euthanasia rates by 52%.
The TCHS Working Cat (or Barn Cat) program begins.
Received grant to track rise of cats and kittens surrendered by using a GIS to identify target areas and then mailed target area an Every Door Direct Mailing (EDDM) with information for low-cost spay/neuter mobile clinics.
Started offering "Kitten Stress Breaks."

2012

Added cat portals to cages in cat room, thanks to a grant from the ASPCA.
Received grant from the ASPCA to increase surgery equipment and switch disinfecting protocol to the new shelter and veterinary recommended Accel disinfectant.
Started Return to Field program.
First dogs transferred from Pasadena, California, to TCHS.
Finished 2012 with a 79.94 percent adoption rate.

And we go on and on.... The outstanding work of the shelter team continues to result in an incredible number of animals finding homes. Our placement rate continues to trend upward:
2013 - 79.48% placement
2014 - 83.89% placement
2015 - 91.75% placement
2016 - 94.03% placement
2017 - 93.44% placement
2018 - 95.6% placement
2019 - 93% placement
2020 - 94% placement
2021 - 95% placement

2019 - Kitty Korner

Kitty Korner opened in June 2019, allowing for same-day adoptions of cats and kittens! It stayed open for a little more than a year, and more than 500 cats and kittens were adopted from that location.

Tri-County Humane Society opened its new facility on Sept. 10, 2020, after two days of moving. The new animal shelter features twice as much square footage, and includes greatly improved housing/socialization areas for our animals.

July 2022: TCHS Hosts 1st Free Microchip Clinic

Staff microchipped 28 animals during our Gettin' Chippy Wit' It event.

August 2022: TCHS Opens Doggie Play Yard

Thanks to Girl Scout Troop 636 out of Sauk Rapids, TCHS opens a doggie play area for its shelter dogs.