Looking for a job that truly makes a difference?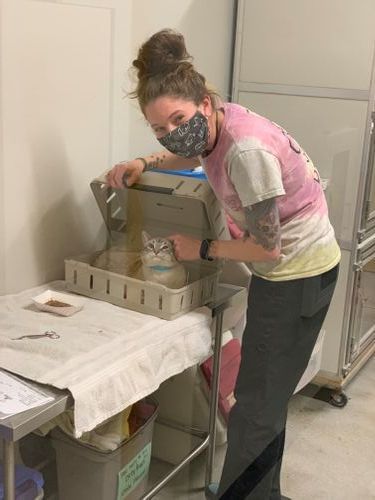 Want to work in a compassionate and friendly environment?  If you enjoy working with animals and people, this could be the job for you!  (If you are a college student, TCHS participates in most local work-study programs and has flexible scheduling.)
Full-time positions have a benefit package including vacation, sick leave, wellness time, personal days, health insurance, and more.  But perhaps the biggest benefit  is knowing you have made a difference in the lives of many animals and people at the end of your work day.
Must be 18 years or older.
Current Opportunities:
Customer Service Associate

PRIMARY DUTIES AND JOB PURPOSE INCLUDES THE FOLLOWING

Customer service person is responsible for providing compassionate, nonjudgmental care and education to our human clients while taking them through the animal intake and outcome processes. They also provide humane care to all animals passing through TCHS. 

TASKS & MAJOR RESPONSIBILITIES     

Handles customer questions and requests in a professional and compassionate manner.

Keeps accurate records (i.e., adoption, surrenders, etc.)

Totals up cash on hand and secures funds at the end of the day. 

Follows directions of the customer service manager and supervisor. 

Completes tasks as assigned by customer service manager and supervisor. 

Stocks merchandise, forms, and packets. 

Keeps the front area clean, organized, and inviting, and cares for the equipment used there.     

Watches for symptoms of sickness, behavior, and adoptability as animals enter the shelter and reports them to animal care staff. 

WORKING CONDITIONS

Occasional exposure to unpleasant odors and noises.  Exposure to bites, scratches and animal wastes.  Possible exposure to contagious diseases.  Must be able to work in proximity with animals and have a flexible schedule including weekends and holidays.  

ESSENTIAL REQUIREMENTS

To perform this job successfully, an individual must be able to perform each essential task satisfactorily.  The requirements listed below are the essential skills, and/or abilities required. 

Must be able to work under the conditions described in "working conditions" above. 

Must be able to work in and remain calm and pleasant in a fast-paced work environment.
Must be able to multi-task.
Must be able to work both independently and in a team environment.
Frequently requires handling dogs weighing up to 100 lbs. 
Sitting and/or standing for long periods.
May be required to use strength or agility in capturing and restraining stronger, more active animals.
Ability to use cleaning materials and equipment with skill and efficiency. 
Learn to administer medications/vaccinations (including giving shots) and recognize abnormal conditions.
Understand and carry out verbal and written directions.
Ability to communicate well with customers in person and on the telephone.
Properly navigate computer database and server using a keyboard and mouse.   

*This job description in no way states or implies that these are the only duties to be performed by the employee occupying the position.  Employees will be required to follow any other job-related instructions and to perform job-related duties requested by their supervisor.

Shelter Worker - Part-Time Position

We continually collect applications for the basic part time shelter worker position and only contact people when there is a job opening. Please complete the employment application on this page to be considered when openings become available.
---
Employment Application