Looking for a job you really like and feel good about?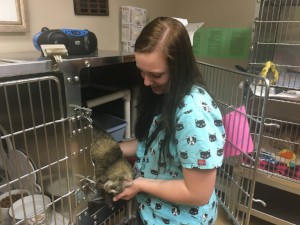 Want to work in a compassionate and friendly environment?  If you enjoy working with animals and people, this could be the job for you!  If you are a college student, TCHS participates in most local work-study programs and has flexible scheduling as your class schedule changes.
Full time positions have a benefit package that contains vacation, sick leave, wellness time, personal days, health insurance, and much more.  The biggest benefit of all is knowing you have made a difference in the lives of many animals and people at the end of your work day.  Who can put a price on that?
Must be 18 years or older.
Current Opportunities:
Shelter Worker - Part Time Position

We continually collect applications for the basic part time shelter worker position and only contact people when there is a job opening. Please complete the employment application on this page to be considered when openings become available.

Surgery Technician

Tri-County Humane Society is embarking on an exciting new chapter with our new shelter – and we are looking for a skilled surgery technician to join our thriving team! The surgery technician would have a full-time role leading a growing and dynamic program. #TeamTCHS was involved with more than 2,000 surgeries in 2018. TCHS is committed to spaying/neutering our cats, dogs, kittens, puppies, and rabbits before their adoptions are completed. TCHS' surgery technician is an integral part of us carrying out our crucial mission.
Requirements:
* Must be a veterinary technician or have had previous vet tech experience
* Be able to coordinate a busy surgery schedule for TCHS pets
* Be able to work well with TCHS vets (including volunteer vets), as well as volunteer techs and surgery assistants
* Be a self-starter and be able to work independently as well as cooperatively with the TCHS animal care team
* Must have an ability to be flexible and adjust well to challenges
* Must have a passion for animals
Other job notes:
* The position is full-time, generally Monday through Friday (with a handful of weekends throughout the year possible)
* The position includes health benefits, paid holidays, and vacation/sick time
Apply online or pick up a paper application at the shelter.
---
Employment Application