Looking for a job that truly makes a difference?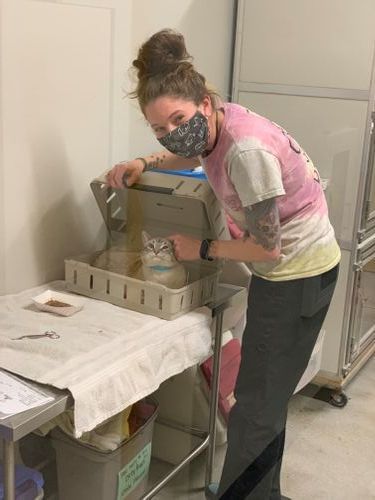 Want to work in a compassionate and friendly environment?  If you enjoy working with animals and people, this could be the job for you!  (If you are a college student, TCHS participates in most local work-study programs and has flexible scheduling.)
Full-time positions have a benefit package including vacation, sick leave, wellness time, personal days, health insurance, and more.  But perhaps the biggest benefit  is knowing you have made a difference in the lives of many animals and people at the end of your work day.
Must be 18 years or older.
Current Opportunities:
Manager of Fund Development - Full-Time Position

Manager of Fund Development

PRIMARY DUTIES AND JOB PURPOSE include the following:

Manage donor activities to raise financial support for TCHS to enable meeting the strategic goals of the organization.  This manager works with the Executive Director accountable for the identification, cultivation, solicitation and stewardship of donors through personal contact, direct mail and newsletter campaigns, fundraising and awareness events, foundation research and grant request writing, planned giving, monthly giving, matching gifts, solicitation of corporate gifts, donor acknowledgment and management of donor records.

TASKS & MAJOR RESPONSIBILITIES

* Proposes budget for Operations Manager relating to fund/donor development. Continually monitors revenue and expenses in relation to those budget categories. 

* Works with Special Events Coordinator to secure sponsors for special events.

* Prepares monthly fund development and donor reports including detailed annual report information.

* Represents organization at events, seeking advantageous partnerships with community businesses, vendors and individuals.

* Cooperates with other personnel within the organization, coordinating with other departments and programs for efficiency and positive outcomes consistent with TCHS' mission.

* Manage all in-kind donations, ensuring they move through the building appropriately and timely.    

* Works closely with the Executive Director on design concepts for direct mail; oversees scheduling and production of direct mail solicitation; evaluates and selects donor lists and acquisitions lists for solicitation.

* Works with Executive Director to create donor recognition and appreciation programs.

* Manages the Bloomerang donor database; ensures that donor's gifts are properly recorded and acknowledged.

* Works to research and prepare grants; maintains grant schedule and submit required reporting.  

* Works closely with the Executive Director to successfully implement all campaigns and appeals for major and planned gifts.

* Pays close attention to donors, engaging and cultivating relationships.

* Oversees and coordinates kennel sponsorships and Give to the Max day efforts 

ESSENTIAL REQUIREMENTS
To perform this job successfully, an individual must be able to perform each essential duty and task satisfactorily.  The requirements listed below are the essential skills, and/or abilities required: 

* Knowledge and skill in marketing and advertising strategies, community events, benefits and functions and creative writing.

* Ability to function independently, manage multiple projects and meet deadlines. Ability to prepare department budgets and reports.

* Ability to establish and maintain effective working relationship with media, community agencies and businesses.

* Strong interpersonal communication skills.

* Ability to work within, and positively contribute to, a team-centered environment. 

* Fundraising knowledge including basic fundraising principles and techniques, fundraising regulations, laws and licensing requirements.

* Ability to develop fundraising strategies and stay abreast of new developments in the business community, animal welfare movement and philanthropic sector.

* Strong written and verbal communication, excellent attention to detail, and the ability to work independently with minimum supervision.

* Possess strong proficiency with Excel, PowerPoint, Word, Outlook, and Publisher. 

* Excellent time management, organizational skills and must be comfortable with public speaking.

* Ability to work around and with animals.

* Ability to work nights, weekends and holidays as needed.

* Ability to work in a variety of weather conditions.

COMPENSATION

Compensation is proportionate to experience; starting wage will be $18-21 an hour. Tri-County Humane Society's benefits package for full-time employees includes: Health insurance contribution, Health Savings Account, life insurance, long-term disability, paid vacation, paid sick leave and paid holidays.

*This job description in no way states or implies that these are the only duties to be performed by the employee occupying the position.  Employees will be required to follow any other job-related instructions and to perform job-related duties requested by their supervisor.

 

Shelter Worker - Part-Time Position

We continually collect applications for the basic part time shelter worker position and only contact people when there is a job opening. Please complete the employment application on this page to be considered when openings become available.
---
Employment Application