Looking for a job that truly makes a difference?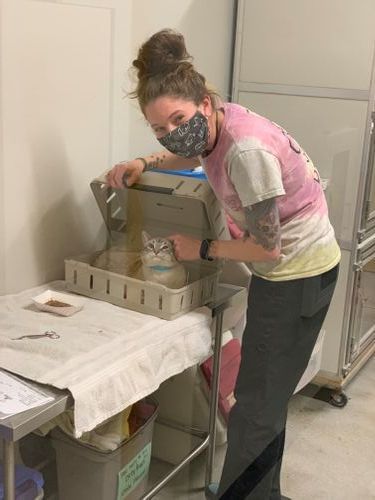 Want to work in a compassionate and friendly environment?  If you enjoy working with animals and people, this could be the job for you!  (If you are a college student, TCHS participates in most local work-study programs and has flexible scheduling.)
Full-time positions have a benefit package including vacation, sick leave, wellness time, personal days, health insurance, and more.  But perhaps the biggest benefit  is knowing you have made a difference in the lives of many animals and people at the end of your work day.
Must be 18 years or older.
Current Opportunities:
TCHS Executive Director

Are you a strong, empathetic leader who is passionate about serving people and pets? Do you want to help make this area – and this world – a better place for animals and the humans who love them?

Tri-County Humane Society (TCHS) seeks a visionary leader to serve in the Executive Director role, aiding our mission to support the animals and people of Central Minnesota by practicing and promoting quality animal care, offering compassionate customer service, and providing humane education.

TCHS was founded as a nonprofit by a group of volunteers in 1974.  Over the next almost 50 years, this 501 © (3) organization has developed into a trusted advocate for animals and assisted in adopting tens of thousands of pets. TCHS has done this all while spreading a message of kindness and the belief in the human-animal bond.  TCHS is committed to the five freedoms that set us apart: freedom from hunger and thirst; freedom from discomfort; freedom from pain, injury, and disease; freedom to express normal behaviors; and freedom from fear and distress.  We are an open-admission shelter that welcomed 5,000 companion animals in 2022. 

The Executive Director is a visionary leader whose decision-making skills and strategic initiatives reflect a commitment to the TCHS mission. Serving as a dynamic liaison between the organization and the public, staff, volunteers, community leaders, government officials, the veterinary community, animal welfare organizations, media, donors, and other constituents, the Executive Director promotes the mission, vision, and policies of the organization as established by the Board of Directors. The Executive Director is responsible for the administration of all programs and services of TCHS and will have a strategic vision for and the ability to execute the plans and policies of the organization. This person possesses a thorough knowledge of current companion animal issues, exceptional people skills, an appreciation for staff and volunteers, and the ability to motivate and educate those with whom they come in contact.

Major responsibilities include:

·         Strategic planning.

·         Fundraising and community relations.

·         Personnel leadership.

·         Operational program and services leader.

·         Budgeting and finance ($1.7 million budget in 2023).

·         Industry collaboration.

·         Board relations.

·         Public speaking.

Qualified candidates will have the following:

·         Bachelor's degree or equivalent job-related experience.

·         Strong proficiency in Microsoft Office.

·         Previous work experience functioning independently, managing multiple projects, and meeting deadlines.

·         The ability to learn a new system with ease.

·         Proven leadership with the ability to build and sustain a positive work culture.

·         Demonstrated troubleshooting, problem-solving, and decision-making skills.

·         Proficient in written and verbal communication.

·         Ability to work nights and weekends as needed.

·         CAWA certification preferred.

Interested candidates can submit a resume and cover letter to hr@tricountyhumanesociety.org .

 

Shelter Worker - Part-Time Cleaner

·         Must be at least 18 years old and comfortable around cats, dogs, rabbits, guinea pigs, etc.

·         Must be a thorough cleaner who isn't afraid of tackling animal messes! The job is physical; cleaners are on their feet most of the time and must be able to lift up to 50 pounds or so. 

·         Must be able to work quickly but carefully; attention to cleaning detail is a must! 

Things to know:

·         Cleaning positions are primarily morning hours (8 a.m. to 12 p.m.); you must be available every other weekend.

·         Enjoy helping and caring for homeless animals while they await adoption. You will be making a difference!
---
Employment Application