Lost Pets
If you have lost your pet, time is of the essence.  Minnesota State Law requires animal shelters and stray holding facilities to hold and advertise stray pets for 5 business days only.  After 5 days, these pets may be placed for adoption.  It is also important to know that there are many places strays may be taken, so get ready to make some phone calls and spend some time searching for your pet online!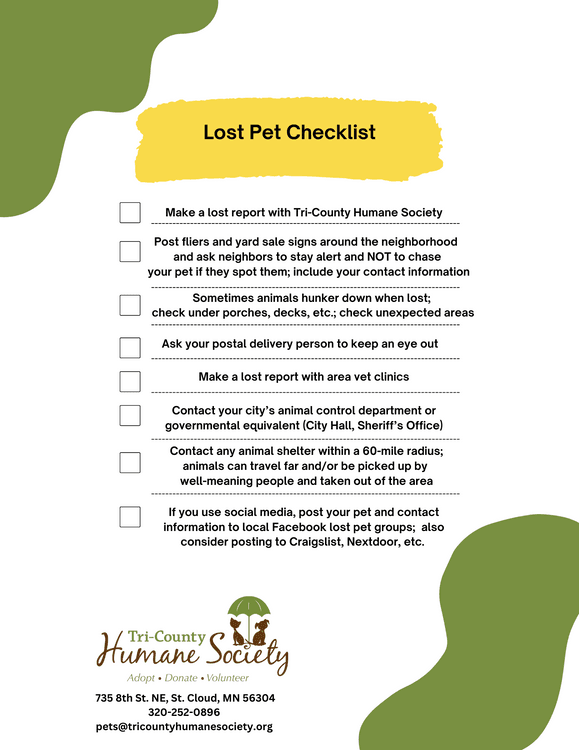 Phone Call List:
Your Neighbors
Your Veterinarian
Tri-County Humane Society (320) 252-0896
St. Cloud Animal Control Division (320) 650-3164 or (320) 255-7214 (Monday –Friday, 8am – 4:30pm, excluding holidays)
St. Cloud Non-Emergency Police Department (320) 251-1200 (evenings, weekends & holidays)
 Sartell City Hall (320) 253-2171
Waite Park City Hall (320) 252-6822
Sauk Rapids Police Department (320) 251-9451
Benton County Sheriff's Department  (320) 968-7201
Stearns County Sheriff's Department  (320) 259-3700
Sherburne County Sheriff's Department (763) 765-3000
Online Search List:
Tri-County Humane Society advertises stray pets alongside adoptable pets on our website.  We give each stray pet a name and add "stray cat" or "stray dog" in their information, but after 5 days of advertising on our website the "stray cat" or "stray dog" name precursor is removed and they become available for adoption with the new name they were given. 
If it has been longer than 5 days since your pet went missing, be sure you look through all of the adoptable pets on our website to see if you recognize your pet.
Lost Pet Prevention
Collar your pet and include updated ID tags.  Unless your pet slips out of their collar, this is still the most effective way to have your pet returned to you safely.
Microchip your pet. Microchips are an excellent back-up plan in case your pet does slip out of their collar.  Animal shelters and veterinary clinics are equipped with universal microchip scanners and routinely check every stray pet to see if they are microchipped.  Keep in mind that you must always update new phone numbers with the company that your chip is registered with for this to be an effective means of returning your lost pet to you! Tri-County Humane Society ensures all its dogs and cats are microchipped before their adoptions are completed. TCHS is able to offer microchips to the public, too; call 320-252-0896 to schedule. See our microchip FAQs above, too. 
Secure your pet's surroundings so that it is not easy for them to escape.  Holes in screened porches or fencing may go unnoticed by you, but you can be sure they won't go unnoticed by your pet!
Secure your pet while traveling.  Some pets find traveling stressful, and will bolt as soon as the vehicle door is opened.  Make it a safe ride for both you and your pet by keeping them safely confined in a carrier or restrained using pet-safe travel harnesses that connect to your car's seat belt.
Use appropriate leashes or harnesses for your pet.  Before leaving the house for a walk, make sure your pet's leash or harness is not too loose where it will slip off your pet, and not too thin where it might snap if they tug too hard.  Buckles should also be checked regularly to make sure they are working well. 
Train your pet to come when called.  Work with your pet regularly so that they know the word "come," and be sure it is always used in a manner that is non-threatening.  A pet who is loose outside will most likely NOT come if you yell at them!