Volunteer at TCHS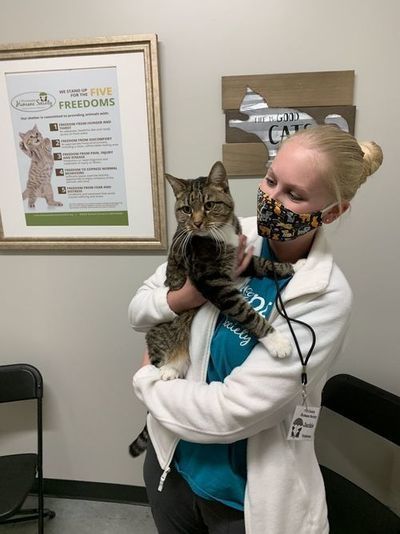 Volunteers are essential to everything we do! Shelter volunteers provide hands-on animal care such as cleaning, grooming, exercising, and socializing the animals while they wait for their new homes.  In addition, volunteers assist with kennel cleaning, general housekeeping, and customer service. We could not save the lives we do without volunteers! 
Other volunteer opportunities include dog walking, surgery assisting, animal photography, office work/data entry, Re-Tail Revisited shifts, yardwork, building maintenance, fundraising events, humane education, and committee work.
If you have a special skill or trade that you feel may be beneficial to our shelter, please share it with us. Wherever your talents lie, TCHS welcomes you!
---
Volunteer FAQ's
I have a group that wants to volunteer for a day at TCHS. Is this possible?

TCHS works to try to accommodate groups that want to do a one-time volunteer project, but it all depends on our needs. Because of the shelter's size, we tend to limit groups to 10 or fewer. And because it takes a minimum of four hours of training to work with the animals, short-term volunteers tend not to work with them. They do dishes, laundry, cleaning, office work and other projects that benefit TCHS and its animals.

I want to volunteer once a month. Is this possible?

Yes, but people who work directly with the animals are asked to do a weekly two-hour shift, for a minimum of 40 hours total. If this is not possible for your schedule, please consider on-call volunteer opportunities with TCHS, such as offsite adoptions at area pet supply stores.

My 5-year-old loves animals and wants to volunteer. Is this possible?

Volunteers must be a minimum of 10 years old to volunteer, and they must be accompanied by a parent. Once junior volunteers are 14 and older, they can volunteer by themselves. A good alternative for younger children who want to give back is to join our Book Buddies program.
tricountyhumanesociety.org/book-buddies/

I want to just walk dogs or just cuddle cats. Is this allowed?

Volunteers do socialize with the animals and walk dogs, but they're expected to help clean and organize, too. Dishes and laundry are requirements if you'd like to be a shelter animal care volunteer. If you want to cuddle or play with an animal, you are certainly allowed to do that as a customer! (No cleaning required.)

I want to come in and walk dogs every now and then. Is this allowed?

In short, no. Volunteers have to go through comprehensive training to work with the animals. Customers or short-term volunteers cannot walk dogs at the shelter. Customers are allowed to interact with dogs, though, with volunteer or staff assistance.

I'm allergic to cats/dogs. Can I still volunteer?

We do not make anyone work with animals that they are allergic to and/or uncomfortable with - however, cleanup is still required! There is no being allergic to dishes! (Those who are pregnant are exempt from scooping litterboxes, though.) If you have other allergies/special needs, please let the volunteer coordinator know how we can help!
---
The Volunteer Process
Volunteers must be 14 years of age or older to volunteer alone, or as young as 10 years of age to volunteer alongside an adult. An adult's application MUST be submitted with the youth's application. 
The first step to becoming a TCHS volunteer is to fill out an application. Completed applications are reviewed and a background check is processed. Thereafter, applicants who are accepted into the TCHS volunteer program will receive an email or a phone call from the volunteer coordinator detailing what is expected and extending an invitation for the next orientation. (Sometimes the invitation email may go to a "spam" folder; please check there.) It may take up to several weeks to process an application; we thank you for your patience.
Training varies depending on the type of volunteer position an applicant pursues. The entire process may take several weeks from the time an application is received to the completion of training.
---
Common Volunteer Needs
Shelter Animal Care Providers help keep a tidy, pleasant atmosphere for the animals and visitors at Tri-County Humane Society as well as provide attention to the animals while they are waiting to be adopted.  Volunteers keep cages and animal areas clean, socialize the animals, and assist customers with viewing animals.  Customer service skills are important for this position. Volunteer shifts are generally a minimum of two hours per week, and volunteers are asked to turn in a minimum of 40 hours' worth of service. Cleanup, including dishes and laundry, is required.
Dog Walkers help ensure our dogs get plenty of exercise and socialization! Dog walkers get the pups out in all kinds of weather. Must be able to handle big, energetic dogs who sometimes need help with their manners!
Surgery Assistants support our busy animal care team during spays/neuters. MUST be 18 years or older and able to work on your feet for several hours in a fast-paced environment.
Animal Transporters must be 16 years of age or older, have a valid driver's license, have their own vehicle, and provide proof of insurance. These volunteers are generally put on a "call list" and are contacted when transportation needs arise. Common transport needs include bringing shelter pets to and from local veterinary clinics.
Animal Photographers take photographs of adoptable animals. People with experience in photography and the ability to edit photos are encouraged to apply for this position. Must have your own camera or a smartphone. Photographers are scheduled for at least a weekly shift and must be able to turn in their edited photos to TCHS within 24 hours. 
Office Assistants help with miscellaneous office projects such as data entry, filing, editing website descriptions, phone calls, bulk mailings, etc.  This may be an on-call or scheduled volunteer position.
Be a Foster Parent for Animals in Need  Foster care continues to be a critical piece of our lifesaving efforts.  When an animal is too young, sick, injured or just needs someone to teach them basic manners, foster parents help fill the gap between the time the animal is brought to the shelter and the time they are adopted.  
---
Service Learning Program
This type of volunteer service is used when someone is looking for a short-term volunteer opportunity. It is often used when students are looking for credits for a class or extracurricular program. Due to a shortened training process, these volunteers do not work directly with the shelter animals. Individuals or groups may be eligible for this program depending on their goals and the needs of the shelter. Please contact the volunteer coordinator directly if you are interested in this type of service.
---
Community Service Program
TCHS accepts court-ordered community service workers. However, there are specific rules and guidelines for this type of service. For more information on community service, please contact our volunteer coordinator at 320-252-0896, ext. 27.
---
If these opportunities do not fit your goals and/or availability, please contact our volunteer coordinator for more information on ways you can help.
For more information, contact Kate Kompas, TCHS Volunteer/Humane Education Coordinator, at (320) 252-0896, ext. 27, or volunteer@tricountyhumanesociety.org.