Found a Pet?
If you found a pet, please call us at (320) 252-0896 to see if their owner has called us and filed a lost pet report. 
If we do not have a match, we will take your contact information and schedule an appointment to take the pet in if it was found in an area that contracts with us. If it was found in an area that does not contract with us, we will direct you to the appropriate stray holding facility.
If possible, do not remove the pet from the site where you have found it until the appropriate animal control officer, sheriff or police department has been contacted.  Some jurisdictions have strict policies on only picking up stray animals from the location they were found.
Local Stray Holding Facilities:
Tri-County Humane Society (320) 252-0896
St. Joseph Vet Clinic (320) 363-7917
Melrose Vet Clinic 1 (800) 592-8387
Princeton Vet Clinic (763) 389-2440
A Place Like Home (320) 743-4422
Stray Animal Intake Fees:
Minnesota state law requires that stray holding facilities board and advertise stray pets for a minimum of 5 business days to try to locate the pet's owner. For this service, Tri-County Humane Society charges $50 per stray animal.
Some cities, counties and townships will cover this $50 fee because they choose to contract with Tri-County Humane Society for strays found in their jurisdiction.  Some choose to contract with other stray holding facilities, covering whatever fees those facilities charge. 
Unfortunately, there are some cities, counties and townships that do not help the stray animals found in their jurisdiction, leaving the burden of the stray fee to the individuals who have found the stray pets. If you find a stray pet in one of these areas, we strongly recommend that you contact the city, county or township officials in the area that you found this stray pet and encourage them to add allowances for stray animals to their annual budget so that stray fees do not fall on the finder.
Wildlife
If you find wildlife in an area where they should not be, or if they appear to be in distress, contact one of these agencies:
Department of Natural Resources (Sauk Rapids office) (320) 223-7878
Injured Birds of Prey (612) 624-4745
Wildlife Rehabilitators of MN (651) 486-9453
Golden Valley H.S. Wildlife Rehabilitation and Release (763) 522-4325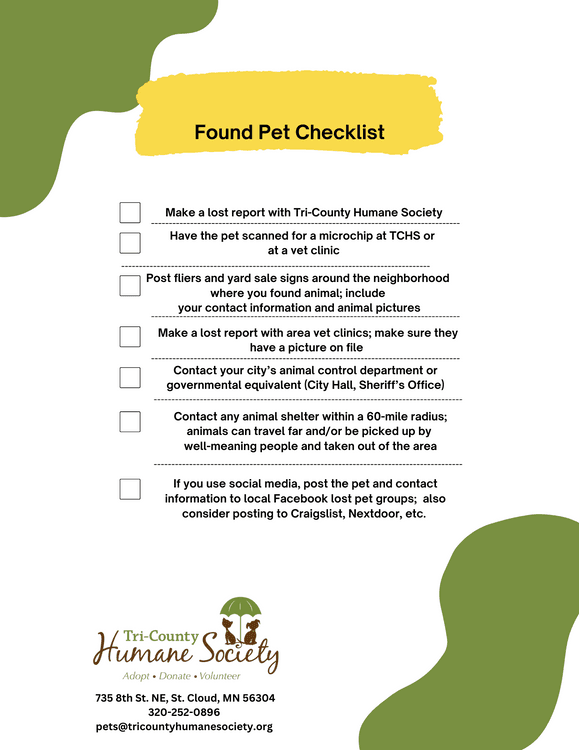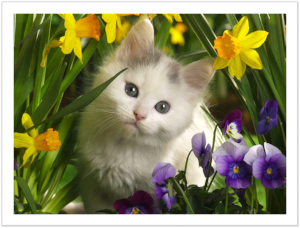 Did You Find a Cat?
A stray cat who appears to be healthy and is friendly is probably a cat that lives in your neighborhood. Cats have a far better chance of getting back home when they're left in the area in which they're were found. Less than 5% of stray cats brought to shelters are reclaimed by their owners. For this reason we encourage you to leave healthy and friendly cats where you found them.
When a stray animal comes to the shelter, we'll scan for a microchip and give them an initial evaluation for placement. Stray animals are held for the state-mandated five days to provide owners time to relocate lost pets. If an owner doesn't come forward and the animal's a candidate for placement, the animal will be be prepared to be available for adoption.