Thank you for looking at our available dogs!
This web page is a direct feed from our adoption system. That means as soon as a new dog or puppy arrives and is processed, they immediately appear on this page! At times you may need to scroll to see all of the available dogs. When you view an individual dog's profile, you may also need to scroll to see all of the content.
You may place a deposit on any of these dogs by phone (320-252-0896) or in the shelter.
ONLINE TRAINING: If you are planning to adopt a dog from TCHS (or have recently adopted one), please ask a TCHS staff member about the GoodPup ONLINE training program! TCHS is excited to partner with GoodPup on this opportunity for customized, affordable, positive virtual dog training that you can do from the comfort of your home!
Learn more about deposits

Animals are adopted quickly from Tri-County Humane Society, so we advise you to call us if you find an animal you are interested in to place a travel hold or deposit on them. To place a deposit on a pet, call us at (320) 252-0896 and have your Visa, Discover or Mastercard ready.

Deposit: Deposits will hold animals for two full businesses days to give you a chance to come and meet them. There is a $20 non-refundable fee associated with this service, although if you choose to adopt the pet upon meeting it, this $20 will go towards the pet's adoption fee. 

2nd Deposit: If an animal you are interested in already has a deposit, you may place a second deposit on the animal. In the case that the first deposit falls through, you will be next in line to have the opportunity to adopt this pet and will have two business days from the time we notify you to come and adopt your pet. A $20 non-refundable fee still applies, even if the person with the first deposit decides to adopt the pet.
---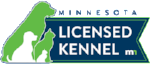 MBAH Kennel License # MN140200