Thank you for taking the time to look at our available critters!
This web page is a direct feed from our adoption system. That means as soon as a new critter arrives and is processed for adoption, they immediately appear on this page! At times you may need to scroll to see all of the available critters. When you view an individual critter's profile you may also need to scroll to see all of the content.
You may place a deposit on any of these critters by phone or in the shelter, call 320-252-0896
Pre-Adoption Questionnaire

To ensure your adoption is in the best interest of both you and your pet, we ask that you answer a few questions. Please only fill out this questionnaire if you currently have an appointment scheduled to view animals and note your appointment date and time in the "comments" field.

This is designed to help limit your time in the shelter and help us practice physical distancing.

CLICK TO COMPLETE QUESTIONNAIRE ONLINE

If you do not have an appointment set or would like to place a deposit on a specific animal, please call 320-252-0896.

Learn more about deposits

Animals are adopted quickly from Tri-County Humane Society, so we advise you to call us if you find an animal you are interested in to place a travel hold or deposit on them. To place a deposit on a pet, call us at (320) 252-0896 and have your Visa, Discover or Mastercard ready.

Travel Hold: Travel holds are a courtesy that will temporarily hold an animal only for the brief amount of time it will take you to get here to visit with it. We know how disappointing it can be to see an animal on our website that you want to adopt only to drive to our shelter and discover that someone else beat you to it!

Deposit: Deposits will hold animals for two full businesses days to give you a chance to come and meet them. There is a $20 non-refundable fee associated with this service, although if you choose to adopt the pet upon meeting it, this $20 will go towards the pet's adoption fee. 

2nd Deposit: If an animal you are interested in already has a deposit, you may place a second deposit on the animal. In the case that the first deposit falls through, you will be next in line to have the opportunity to adopt this pet and will have two business days from the time we notify you to come and adopt your pet. A $20 non-refundable fee still applies, even if the person with the first deposit decides to adopt the pet.
---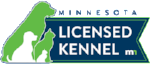 MBAH Kennel License # MN140200