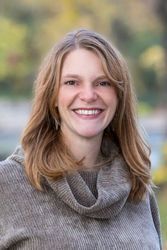 Tri-County Humane Society's Board of Directors is proud to announce that Marit Ortega will be the next executive director of the nonprofit animal shelter.
Ortega will succeed Vicki Davis, who will cap her almost 40-year career at Tri-County Humane Society (TCHS) with her retirement in February 2024. Ortega has worked for Catholic Community Schools in various capacities in the past five years, most recently as its Director of Development. Ortega also was director of The Campaign for Cathedral in which she assisted in raising more than $5 million in cash and new commitments for the building project.
But Ortega is not a stranger to TCHS: She was the shelter's Animal Care Manager from 2002-2008; its Volunteer, Humane Education & Events Coordinator from 2009 to 2012; and its Director of Philanthropy from 2012 until 2018.
Ortega grew up in St. Cloud, and she is a graduate of Cathedral High School and St. Cloud State University. She lives with her family in St. Cloud.
"I am honored to be named the next Executive Director of Tri-County Humane Society, and having worked for TCHS for just shy of 20 years under Vicki Davis' leadership, I couldn't have asked for a better mentor," Ortega said. "I'm excited to continue serving the greater
St. Cloud area with the same dedication to companion animal welfare and love of the human-animal bond that has brought so many pets and people together during Vicki's years of service. Having worked for another charitable cause these past five years that is also near and dear to my heart, I am grateful for the opportunity to return to Tri-County Humane Society in this new role. It feels like coming home."
The TCHS Board of Directors offered the job in late June to Ortega after a search and interview process. Ortega will start training in her new TCHS role Nov. 1 with Davis.
"Marit has a history with TCHS and a heart for animal welfare," Davis said. "Knowing she's going to be in my office makes leaving a little easier."
TCHS has been serving the pets and people of Central Minnesota for close to 50 years. Last year, the shelter placed more than 5,200 animals in homes.