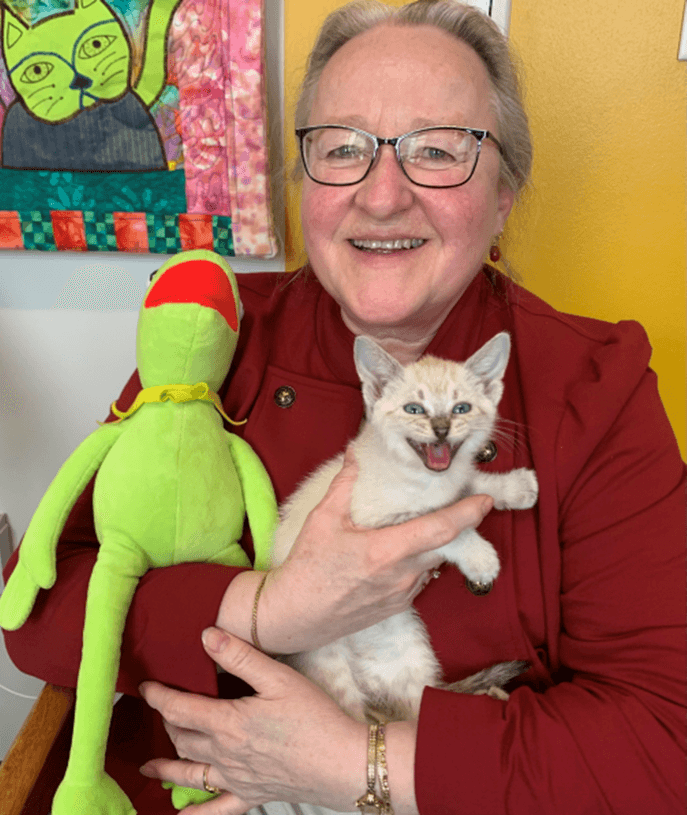 "Together Again" has been covered and made famous by many: Buck Owens, Janet Jackson, (oddly enough) Young Frankenstein and even the Muppets. While I admit I'm a huge Buck Owens fan, I think my favorite version right now is the one performed by the Muppets in "The Muppets Take Manhattan"! In fact, I'm making it my personal theme song for the evening of May 5th when Tri-County Humane Society gets back "together again" to do Wine, Kibbles & Bids in person, the way we did four years ago, before COVID changed us.
It's interesting how some things we were forced to change actually proved to be a better way to conduct business. For example, making appointments to finalize the adoptions of animals with deposits was a win for everyone involved, and we still do it today. Moving our silent auction to online was another pleasant surprise. There's something to be said for having a full week to bid on items versus a two-hour span (not to mention you can do it in your jammies!). For that reason, we'll keep the online auction available for those not able to come to the event or those of us who like to shop in the comfort of our home. I, for one, enjoy both the in-person and in-jammies experience!
Being together again gives us a chance to thank people in person and make the connection to TCHS – which I believe makes it all more real. It just does. If you can't come to the event, please consider coming to the shelter. I'd love to take you through and show you all the little noses benefiting from your support. I think it helps to see firsthand how the animals are being nurtured and cared for, see them courted by people looking to adopt, and if that doesn't do it, you're sure to have an "ahhh" moment when you see them at the adoption counter! I guarantee you it'll make TCHS more real for you. Little noses on critters can do that – I know it sure has inspired me all of these years!
Helping animals. It's what we do and we do it well – all thanks to you!!
Vicki Davis, CAWA
TCHS Executive Director
---
PICTURED: Vicki Davis with her friend Kermit (star of "The Muppets Take Manhattan") and kitten Camila. Kermit was a more cooperative subject for this photo than Camila.