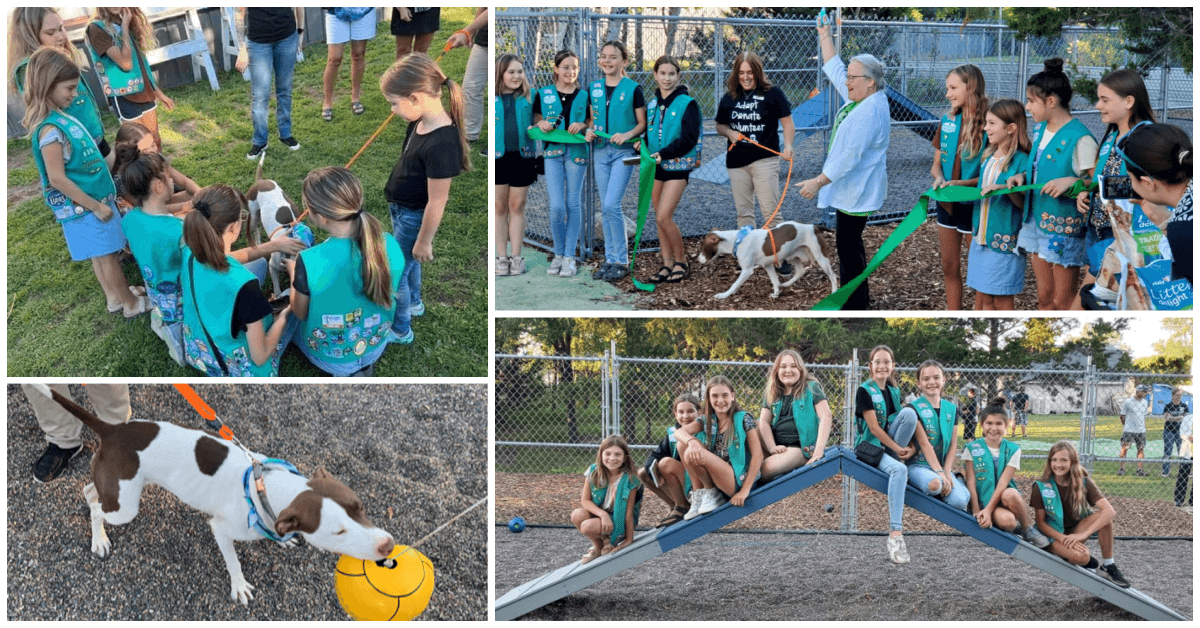 After months of hard work, local Girl Scout Troop 636 unveiled their dog play yard area Aug. 30 on Tri-County Humane Society's property. The park is for the dogs who are staying at TCHS while they await their permanent homes.
The eight girls who spearheaded the project did so in an effort to earn their Bronze Award. The youngsters did months of research, fundraising, networking, and recruiting volunteers to make the project a reality.
The play yard features a large fenced-in area complete with agility equipment (a ramp and tether ball), and an upgraded doggie run. The girls' fundraising efforts were so successful that they were able to buy several carts full of items off TCHS' wish list.
Besides the girls and their families, TCHS staff members, media, and Girl Scouts of Minnesota & Wisconsin Lakes & Pines CEO Leigh Ann Davis attended the unveiling. TCHS Executive Director Vicki Davis helped the girls cut the ribbon, and TCHS pup Penelope was the first to officially try out the space. (She has since been adopted.)
Girl Scout Troop Leader Kari Bohemer said the girls love seeing pictures on social media of the TCHS dogs enjoying the yard.
"These girls dream big and they don't shy away from a challenge. But I could tell as we laid out the big tasks and jobs it seemed like they all felt a little like 'we'll never get this all done' or 'maybe we dreamed too big this time.' Seeing them come together as a troop, asking for help in our community, recruiting more volunteers and working hard as a team.... I think they were surprised by the support we received but more importantly surprised by themselves and what they were able to accomplish. ... They learned a big lesson this summer... never back down from your big dreams!"
---
Paws-Up to the Donors/Sponsors of Troop 636's Play Yard!
Mike Packa (Ella B.'s grandpa): Project designer, volunteer, helper, etc.
Kevin Voight (Ella G.'s grandpa) of Arnold Companies: Equipment, time, and workers used to clear the play yard space and prepare for leveling. He spent a lot of time on this yard!
Jack Schabel of Schabel Enterprise, Inc.: Equipment, time, and workers used to level the yard space and haul away waste.
Mark Schmidt (shelter volunteer): Help with labor, debris, used his trailer to haul away brush, and hauled wood chips. 
Michelle Anderberg of Plaisted Companies, Inc.: Donated the truck and
resources for all of the gravel and pea rock for the project, and volunteered her time to haul the product.
Gary Nyren (Ada's grandpa) of Powrtran: Sponsored picnic table and bench.
Jamie of Tri-County Organics: Donated all the wood chips.
---