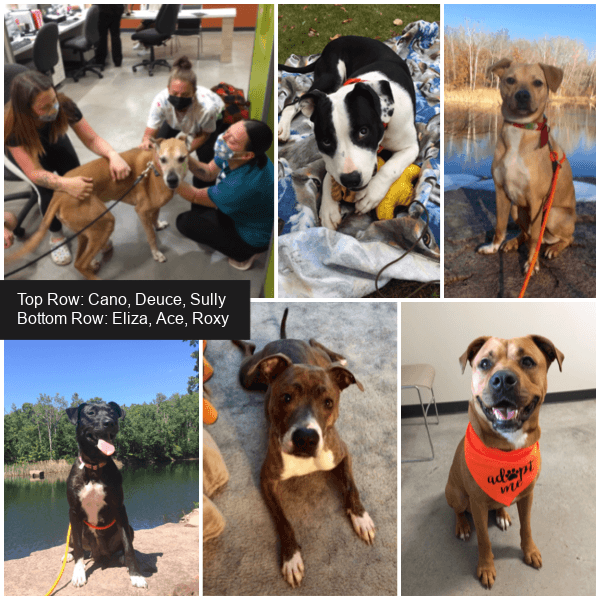 I didn't start out intending to become a foster for dogs. I simply walked dogs as a volunteer for Tri-County Humane Society. But TCHS allowed me to take a pup named Deuce out for an extended weekend break. That was the start of an enlightening and rewarding journey.
The 1st one
Deuce was a pitty mix who had been at the shelter for over a month. Whenever I walked him, he gave the sweetest "please rescue me" look. Deuce taught me that he didn't care about "things" in the home; he was just happy to be in a home and around me. He simply loved life and doing anything with me. I will forever remember him plopping down next to me wherever I went.  
'Quirky' foster
My next foster was Sully.  He was at the shelter for well over a month before I took him home. On our walks, he gave me the same "please rescue me" look I had seen in Deuce. He was described as quirky. I found out he just didn't like his feet being handled. One of the biggest accomplishments I had with Sully was to get him to give me his little paw on a shake. He was very snuggly and loved being around people.  Sully re-affirmed what Deuce taught me: A home with people was far more important to him than any physical things.
My time with Ace
And then there was Ace. 
Ace was an Am Staff mix who had become very kennel weary. By the time I took Ace out for foster, he had been at the shelter for more than a month. He was very high energy and I was expecting a challenge.
To my surprise, Ace was the best dog I had ever been around in a home setting. He needed work around animals, but other than that he was just plain amazing. I had Ace for only a short two weeks, but during that time he taught me so much. I got to see the transition from the "this is new, but I like it phase" to the "I am comfortable and this is home" phase. The family that adopted him was a really great fit and I know he was truly happy there. He taught me a lot about pre-judgement.  I would never have expected him to be such a wonderful pup just from what I saw in the shelter. Ace will forever be my "I wish I had kept him" foster.  
Due to some life events, I decided to take a bit of a break from fostering after Ace. I wanted to keep helping dogs as much as possible, so I started taking pups out on "field trips" instead. Trips to the river were common. Then after a few months I got the devastating news that Ace had been hit by a car and killed. Just thinking about it today still makes me tear up. I will forever miss him.
Fostering Roxy
There was a pitty mix at the shelter at that time named Roxy. She had been there for a while and was not getting viewings. I took her home as much to help me get past Ace's news as to help her. She was the first female I fostered and was super sweet. She was really my bridge to get through the Ace tragedy. It took all of five days for her to find a home.
The Big Guy
My next foster came in the way of a Great Dane mix named Cano. Cano was 10 years old and loved by the entire staff. He just wasn't getting any showings. He was super sweet and absolutely loved people.  I was unsure about such a large dog around my home, but he was the perfect gentleman. He was so easy to take care of, I felt a bit silly for worrying about his size.
The second week I brought him back to TCHS with me while I walked dogs on my shift. A couple was there looking at puppies and looked at Cano. They fell in love.  Just like that, he had found a home. 
My Fair Doggie
My last foster was a 1-year-old pup who had come back to TCHS after having a litter of puppies. When she came into the shelter, she was afraid of people. I was one of those who had helped get her socialized before she went to foster to have puppies. When she returned from mommy foster, I took her home while she dried up from nursing, went through going in heat, and eventually was spayed. She was absolutely the sweetest girl, with just the most wonderful personality. Eliza taught me how to deal with a lot of "female" things I never knew about. I will forever remember her little shake-off whenever she got up. There is no doubt I would have kept Eliza if I hadn't adopted Rico, my Boxer mix, from TCHS, shortly before I fostered her.   
Bringing them back to TCHS
The most common comments I have received was how people would love to foster but could never give them up. I will say I shed tears with every foster I gave up. But I also know I helped find every foster a good home. Many of the dogs I fostered weren't perceived to be "easy" fosters. All turned out to be wonderful around the home. I was able to do all the meet-and-greets with the adopters. I still have regular contact with many of my fosters and their families. Rico has met Eliza, Sully and Cano, and regularly plays with Eliza and Sully. 
Fostering is truly one of the most rewarding things I have ever done. There is something special about dogs who are rescued. It is like they really know and appreciate every simple thing in life. I have gotten to know some great animals as well as the people who adopted them. Tri-County makes it very easy to foster and is very supportive through the process. It really costs you nothing and it gives you a chance to help pups in need. 
Who knows, you may just find the perfect best friend.
Kevin Woeste is a Boxer enthusiast who was selected as TCHS' Above and Beyond Volunteer of 2021