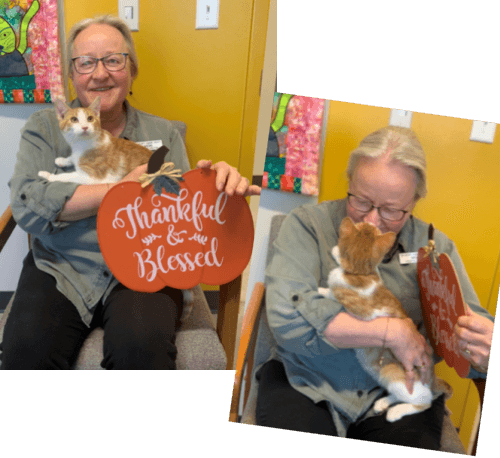 Dear Friends of Animals,
Thanksgiving is around the corner, so I think it's appropriate to center this conversation around gratitude.
One of the great privileges of being in animal welfare is getting to know so many kindhearted people. Whether it's people I'm working with, working for, learning from, or mentoring, the vast majority are exceptionally nice. I'm so very blessed to do this work and have that kind of spirit around me or in the next room.
Right now, I'd like to position some of that gratitude around the incredible Tri-County Humane Society staff and volunteers. TCHS doesn't magically create the success we talk about and celebrate – the people do. THEY are Tri-County Humane Society. They are some of the kindest human beings you'll find. With that said, kind hearts are often the ones easily bruised, so I tip my hat to their fortitude when faced with challenging days. Thankfully, the good days far outweigh the bad!
I'm so proud of their knowledge and compassion. They're genuinely kind to customers, no matter how many animals have come in that day or how many times the phone has rung. And they can laugh and shed tears at a staff meeting while sharing happy endings and emotional experiences. I'm truly blessed. Please thank them the next time you have an opportunity.
And that brings me to you – our village of moral and financial supporters. What a kind and caring group of animal-loving people you are! Reach around and pat yourself on the back for me. Feel the hug of appreciation from everyone at the shelter – animals included!
We're helping so many more animals in so many different ways than we ever would have imagined possible. All because you trust us with your hard-earned money and believe in the work we do. Thank you!
As I count my many blessings, please know you're high on the list! THANKS-for-GIVING!
For the animals,
Vicki Davis, CAWA  (Certified Animal Welfare Administrator)