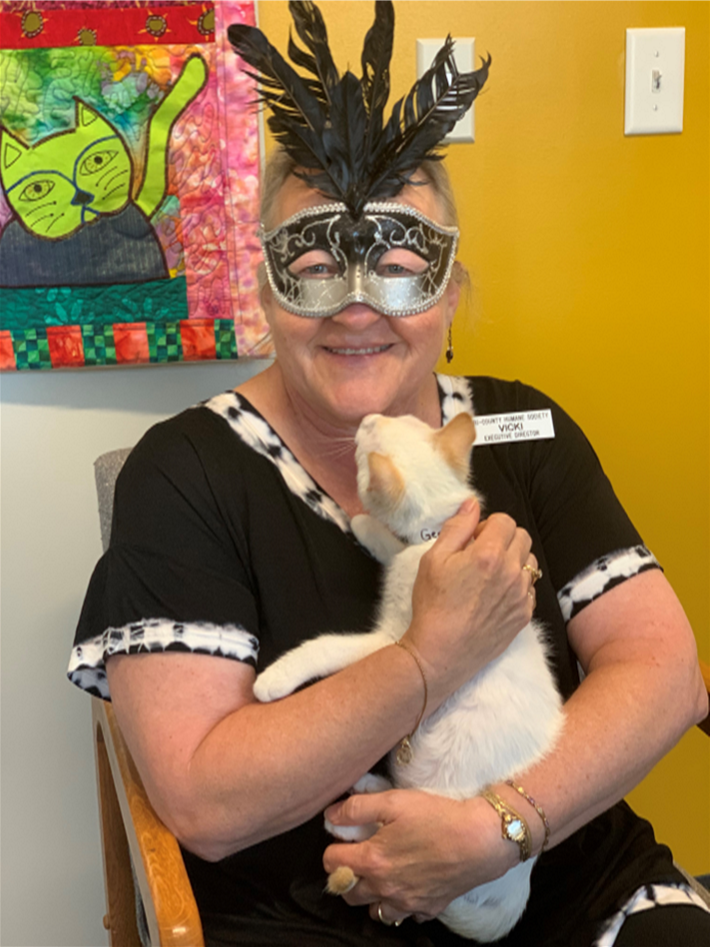 Recently, I was in a thrift store and ran across a very old Companion Walk shirt that looked brand new. As the shirt found its way into my cart, I found myself reminiscing about those early Companion Walk days.  Such humble beginnings of maybe 50 people, staff and volunteers included, gathering at the shelter (not Wilson Park) to take a walk with our dogs and return for some refreshments. My, what a transformation this event has gone through — it now takes a small village to put together! But why should the walk be any different? Humble beginnings define all that TCHS once was when comparing many years ago to where we are now.
For decades, it's been a tradition: Every September  Tri-County Humane Society supporters gather to do the Companion Walk fundraiser. Themes have changed, faces (of both walkers and dogs) would change, but the goal was always the same: to raise money to support our shelter and its residents.
Last summer, COVID-19 meant we couldn't have an in-person event. So we did what we had been doing all of 2020 – we adjusted. We had a virtual Companion Walk, with individuals walking and raising money on their own. The virtual Companion Walk did what it needed to do, and for that we're grateful. Yet, it's impossible to replace that sense of community that happens when all of us gather together in support of this worthy cause. Plus, part of the fun is seeing all the dogs (and some diverse companions) with their humans having a great time!
So we're delighted to be back this year, and we hope you'll be joining us to make it a splendid success. The walk is a tradition because the needs never go away – in fact, as we grow every year, so do our needs. Funny how that works! We're already on pace to adopt out more animals than last year, and that was a great year for adoptions. But no matter how many we adopt, there are more to take their places.
Sometimes it takes something like COVID, and a year off from traditional special events, to really drive home how important and "special" they are.
We're expecting a great party this year – so the "Mardi Paws" theme is spot-on appropriate! We're going to not only have fun at this event, we're going to have a wonderful silent auction, great food, music, and so much more. I'll have my walking shoes on - and maybe some beads!
Whether you're a veteran of Companion Walk or this would be your first time, welcome to #TeamTCHS! Let's get walking and raising money! And remember, if you're already booked for the 11th and can't attend, I have room on my pledge form for you!
Vicki Davis, CAWA