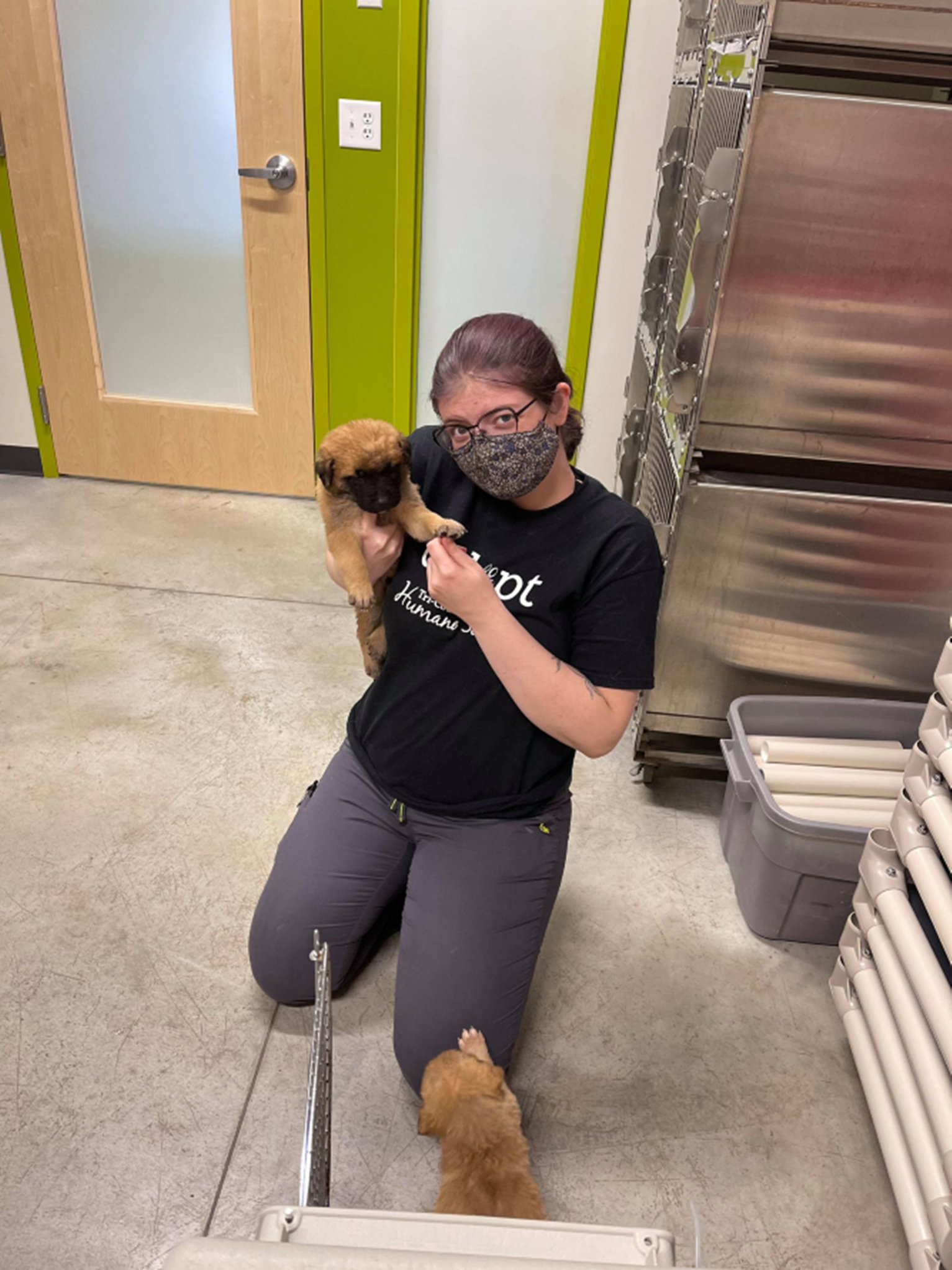 One of the immediate benefits of Tri-County Humane Society's new shelter is how much more space it has for both people and pets. Although TCHS still does all its intakes by appointments, with more space the shelter is able to help more animals.
The shelter doesn't have time limits on its animals – as long as an animal is happy, healthy, and generally considered fit for adoption, it will have a place at TCHS. (Sometimes, if an animal has been with the shelter for a while, staff get it placed with foster volunteers to give it a mental and physical break.)
TCHS leadership have the stats to back that we're helping more pets. In 2020, the shelter took in 297 transfers from other animal welfare organizations. By the end of the first week of May, TCHS had taken in 430 transfers – a number that stuns even staff members.
"Adding to our life-saving abilities is so amazing," TCHS Animal Care Manager Laura Lund said. "We are taking from overcrowded rescues, some that are foster-based only, and giving the animals more exposure."
In some cases, some of the dogs and cats who have been transferred in to TCHS are adopted within days of arrival.
"The rescues we work with are in awe of how quickly we place the animals in loving homes," Lund said. "They trust us to do the best for the animals they are sending, which is a great feeling that our reputation is that good."
This year, TCHS has had the majority of its transfers from Leech Lake Legacy (Cass Lake, Minn.), Furry Friends Rockin' Rescue (Bismarck, N.D.), Let Love Live (a Texas-based organization with an outlet via Waseca, Minn.), Turtle Mountain (Rolla, N.D.), and Forget Me Not (Clarksville, Tenn).
"We have always said we want to help in our backyard first," Lund said. "So working with local rescues has been a priority, and we have developed a very good relationship with Leech Lake Legacy, and have helped a few local smaller rescues since moving into our new facility."
The demand to adopt from TCHS, up ever since COVID, is still strong. Other areas of the country are not as fortunate.
"There is a big need out there to help with shelters that are overcrowded, especially from the South," Lund said. "The transport teams do a great job of getting them to areas of the country that seem to have less of a problem. Fortunately, we have the ability to place animals quickly here in Central Minnesota while also helping the animals in need in our area."
---
Pictured:  TCHS staff member Bre Johnson gets in a little cuddle time during a transfer.