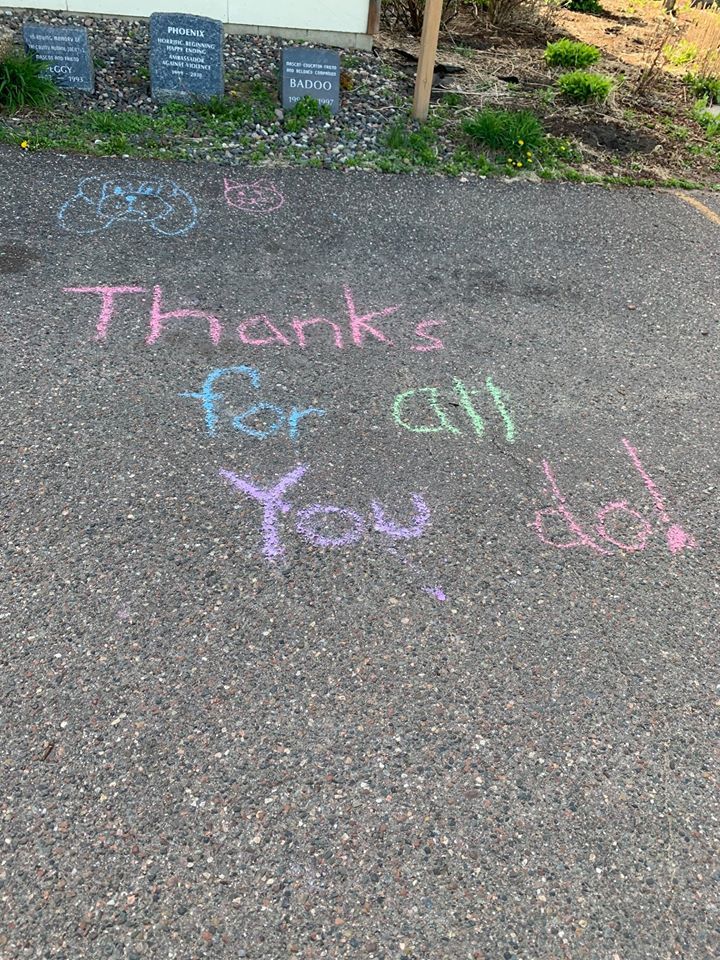 Tri-County Humane Society staff had big plans for the spring. There was a Wine, Kibbles & Bids celebration to plan, and the new TCHS shelter was midway through construction. Also, staff were getting ready for something that comes every year without fail: kitten season.
Then COVID-19 hit, and like many businesses in Central Minnesota and beyond, TCHS had to make major changes to how it does just about everything. The shelter had long had an open door, "browse at your own leisure" policy for its adopters and visitors, with no appointments required. Now with health experts urging social distancing and restrictions on large crowds, TCHS had to adjust – and adjust fast. After all, "browse at your own leisure" doesn't work well when the shelter can see hundreds of visitors on a busy day.
TCHS quickly moved to institute appointments for all viewings and adoptions. It was a big change for staff and customers; other measures – such as stepped-up sanitizing – came naturally for an animal shelter.
Executive Director Vicki Davis says TCHS staff handled the ever-changing COVID situation like the professionals they are. "We're educated in the field of managing contagious viruses and quarantining," Davis said. "We combined that knowledge, the guidance from within our community and what we were hearing from the national experts in animal welfare and came up with a decent plan that continues to be re-evaluated and adjusted as needed."
Animal Care Manager Laura Lund said TCHS staff are used to "dealing with the punches, so to speak."  "Best-laid plans usually don't go as planned. We are a resilient team and work well together," Lund said. "We have adapted our routine to safely continue adopting out and taking in animals. If we stand still we run the risk of overcrowding in the shelter, and we felt it was very important to continue to help the community."
It was anything but business as usual. The public flow into the shelter was carefully monitored. The number of volunteers in the building was cut down to about 20 percent of the typical number, with anyone who did not feel comfortable being at the shelter for whatever reason urged to stay home. But despite less helpers, the basic chores – dishes, laundry, dog walking - still got completed every day. And adoptions thrived, with a huge interest from people now staying at home to both adopt and foster.
"Creating and implementing a scheduling process for viewings and adoptions was difficult and it was a lot of trial and error to figure out what was going to work best," Customer Service Manger Anna Stratton said. "One of the most difficult parts of this process has been adjusting to the change in our long-held open door policy. It just doesn't feel as welcoming, but our goal has been to continue to help the animals and people in our community and the only way we could accomplish that was to do our best to keep everyone safe and follow the guidelines set forth."
TCHS did well, despite the big changes, Stratton said.  "I believe our team has done a great job adjusting and pulling together to continue fulfilling TCHS' mission," she said.  With all viewings and adoptions by appointment, TCHS' customer service staff now got the rare chance to work closely with every customer, something Lund thinks has major benefits.  "I believe it is important to provide one-on-one customer service to try to match the right pet with the right adopter," she said. "We strive to find the perfect fit so the animal does not have to come back into the shelter. It is very rewarding for the staff to go through that process with the adopters making it feel like we really are making a difference for the animals coming into our care. We need those moments because our jobs can be very emotionally draining."
During those tough moments, TCHS staff and volunteers leaned on each other, as well as support from the community. TCHS Certified Veterinary Tech Rose Hegerle used her sewing skills to outfit every TCHS staff member and volunteer with a reusable cloth masks. Her efforts got her featured in a WJON series called "Heroes Among Us."
With all major fundraising events on hold, Special Events Coordinator Angela Mundis organized online silent auctions under the banner "Kindness Isn't Canceled" to bring much-needed funds in the building. She and Manager of Fund Development Tauna Quimby also put a big efforts into "All Paws on Deck," a one-day fundraising campaign. And Minnesota's "stay at home" order has been lifted, but TCHS is still operating the same way – appointments, careful sanitizing, and safety for all above everything else. Will things "go back to normal" or will there be a new normal? We're not sure when and if that will happen, but some things are certain – like that shelter pets will always need care. 
"I couldn't be more proud of TCHS staff," Davis said. "They stepped up to do their job in a very new way, and never lost sight of their real clients: the animals."