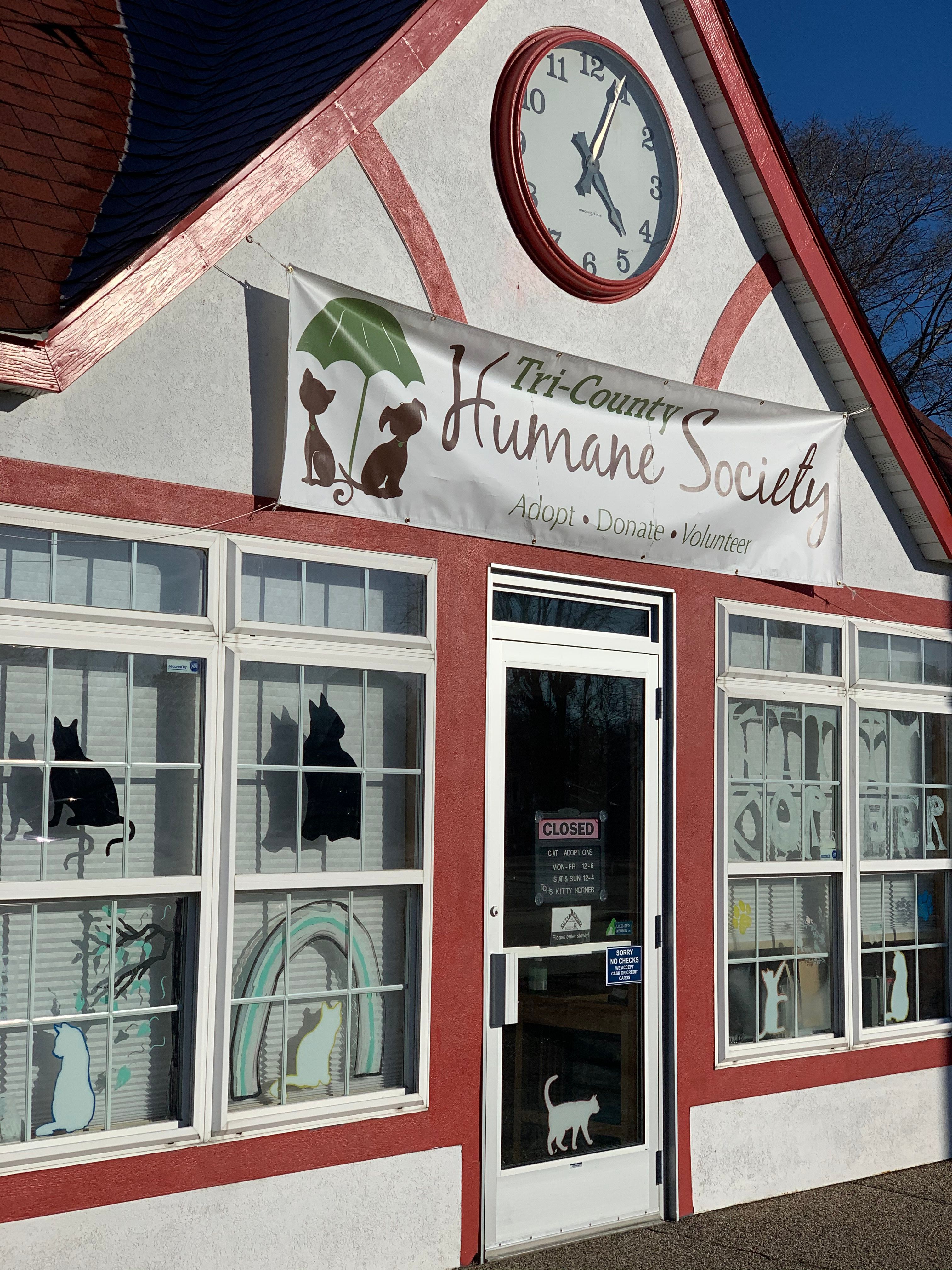 Due to COVID-19 concerns (Kitty Korner is tiny—hard to maintain "social distancing"), Kitty Korner is closed until further notice. All cats are at TCHS.
---
Tri-County Humane Society was lucky to count many successes in 2019, but one of the most significant ones was opening the TCHS Kitty Korner.
The use of the building at 1715 1st St. South in St. Cloud was generously donated by Jim and Brenda Feneis. The concept: A one-stop shop for cat enthusiasts; the cozy space can house up to 10 to 15 cats and kittens who are
already spayed/neutered, microchipped, and ready to be adopted. (At the main shelter, all felines are spayed/neutered, but sometimes there's a brief delay before adoption so that surgery can be completed.)
TCHS Kitty Korner opened in mid-June, with TCHS staff and volunteers tending to the cats and helping customers find their new best friends. As of mid-March, more than 330 adoptions have been completed there. 
The response to the Kitty Korner from the St. Cloud community was immediately positive. Customers loved the one-on-one interaction with TCHS staff and volunteers, and the kitties appreciated the quieter setting (no barking dogs!) with plenty of natural sunlight streaming in the windows. In fact, Kitty Korner has become a great place for shy or skittish TCHS cats to thrive and find their homes faster.
The Kitty Korner has helped give TCHS another option for much-needed feline housing, Animal Care Manager Laura Lund said. TCHS took in 2,700 cats and kittens in 2019, and new contracts with area cities, including St. Cloud, upped the demand for TCHS' services. 
Jim Feneis, president of East Side Oil Companies and First Fuel Banks, says he and Brenda were happy to help TCHS with this endeavor. He said they were encouraged to support Tri-County Humane Society by their good friends, John and Cherie McDowall. Jim also has some personal reasons for the cause, besides loving cats: He suffered heart failure in May 2015. He now totes around a 6-pound computer and battery pack – "carrying my heart on the outside." 
"That gave me a second lease on life, and Brenda and I feel so good about giving back," Jim said. 
And Executive Director Vicki Davis said TCHS is so happy to have connected with Jim and Brenda Feneis. "The opportunity for Kitty Korner couldn't have come along at a better time," she said. "Ironically, when I was looking for an off-site adoption location, I used the building we have Kitty Korner in now as an example of what I was looking for. Just as ironic was finding out Jim Feneis owned it and I knew he had a soft spot for cats. The rest is history."
The Kitty Korner building is up for lease or sale, but until then, it will be filled with furry residents looking for homes. 
"It's just a very good feeling, and we want to keep you guys in there as long as we can," Jim Feneis said.