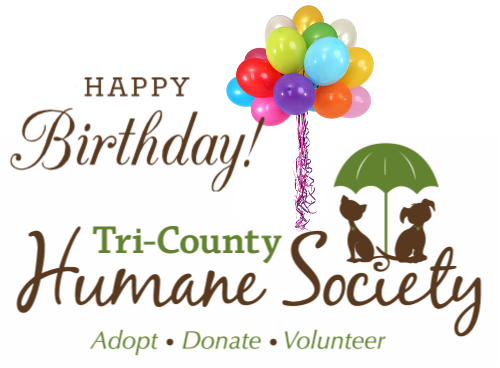 OVERVIEW: From a home-based operation to a beloved community institution, Tri-County Humane Society celebrates 45 years of service to Central Minnesota on December 11, 2019. The independent, nonprofit shelter strengthens the human-animal bond through re-homing pets in need and reuniting lost pets with owners. Cities of St. Cloud, Sartell, Sauk Rapids, and Waite Park are celebrating the nonprofit's efforts with a Mayoral Proclamation by making December 11 Tri-County Humane Society Day.
ST. CLOUD, MN -- Chances are, if you're an animal-lover in Central Minnesota, you're familiar with Tri-County Humane Society (TCHS). They've been in existence in St. Cloud since 1974 to provide pet rehoming, humane education, and reuniting lost animals with their owners. On December 11, they're celebrating their 45th Anniversary.
Earlier this year TCHS began sheltering animals for the city of St. Cloud, and welcomed back Waite Park and St. Joseph. They also added county contracts for Stearns and Benton County sheriff's offices. Adding these three contracts to the services they were already providing for other area counties and townships, TCHS has taken in 896 lost pets this year and reunited 305 of them with their owners (through November 30). In recognition of Tri-County Humane Society's efforts, the cities of St. Cloud, Sartell, Sauk Rapids, and Waite Park have each made a proclamation declaring December 11, 2019, as Tri-County Humane Society Day.
Tri-County Humane Society's main shelter in east St. Cloud houses between 130-150 pets at a time and welcomes about 250 visitors each day.  Their downtown location, Kitty Korner, on Division Street and Washington Memorial Drive, houses another 12-18 cats. In 2018, TCHS facilitated a total of 3,123 pet adoptions. With the new city contracts, adoptions are up 11% over the previous year as of November 30.
In 2020, TCHS will be opening a new shelter, twice the size of the current one. The plans include more space for pets and people alike, including upgrades to animal housing/care areas and a larger educational space. Weekly tours of the current shelter take visitors behind the scenes to show how they're caring for the animals today and plans for the future.
Learn more about Tri-County Humane Society at www.tricountyhumanesociety.org.
TCHS History
12/11/1974 Home-based operation
1975 Materials donated to renovate an old gas station on Lincoln Avenue for St. Cloud's first humane society
2/28/1976 Shelter Opened
5/15/1989 Moved in to current location
View historical photos and learn more at https://tricountyhumanesociety.org/who-we-are/mission.html