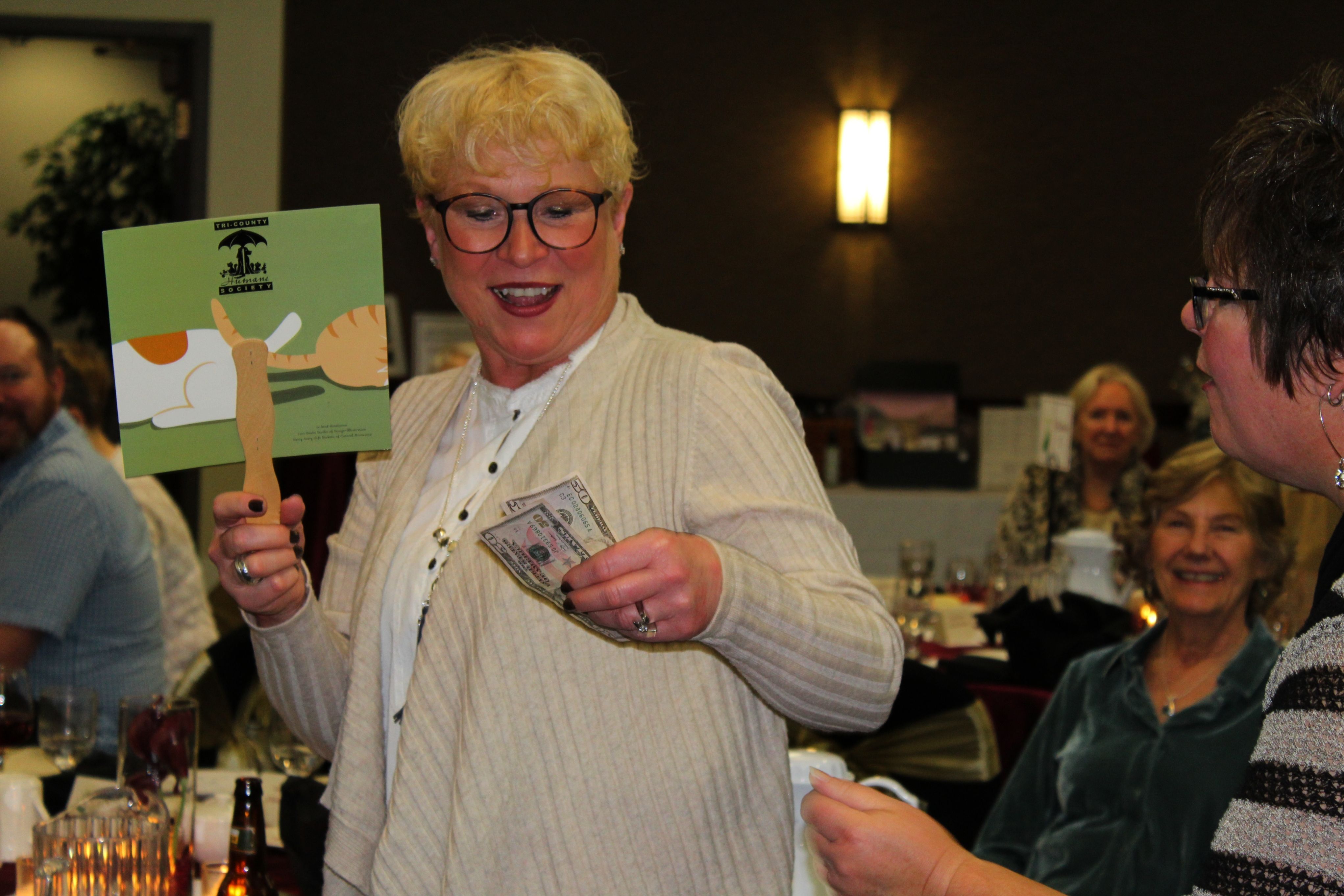 ST. CLOUD, MN – Tri-County Humane Society is proud to announce that it raised $79,000 in profit at its Wine, Kibbles and Bids celebration. The money will go toward the independent nonprofit organization's efforts to spay/neuter every animal before adoption, as well as general shelter operations.
The event was April 12 at the Gorecki Center on the College of St. Benedict campus. It featured a silent auction of 160 items, wine and beer tasting courtesy of Coborn's Liquor, music by Monday Night Jazz, and, of course, animals. Among the special animal guests were Husky puppies with cerebellar hypoplasia (a "wobbly" condition); the pups quickly charmed the audience of more than 200 people.
The emcee for the evening was TCHS Philanthropy Director Tauna Quimby, who regaled the audience with sweet and funny TCHS stories – including a stray chicken who was reclaimed!
TCHS Board Member Bill Nelson deserves a lot of credit for TCHS' fundraising success that evening. Through his "Bill's Jars" project – where he collects spare change for TCHS – as well as events such as the Spay-ghetti and (No) Meatballs dinner, Nelson contributed about $40,000 to Wine, Kibbles and Bids' total.
"Wine, Kibbles and Bids is one of my favorite nights with my favorite people, and it's so gratifying to see it again be a success," TCHS Executive Director Vicki Davis said.
The fundraiser came during a busy time for TCHS, which is hard at work on its Capital Campaign to build a new shelter.
TCHS is grateful to the event's major sponsors: Sue Wahl Storbeck (Top Dog); Advanced Care Pet Hospital, Leighton Broadcasting, and Pine Cone Pet Hospital (Golden Retriever);  Falcon National Bank (Silver Tabby); and Audio Video Extremes, Coborn's Liquor, College of St. Benedict, DeGraaf Financial, Kloster Commercial Resources, Little Rock Boat Works, and St. Cloud Ear, Nose and Throat (Bronze Canary).