Capital Campaign Tour and Information Reception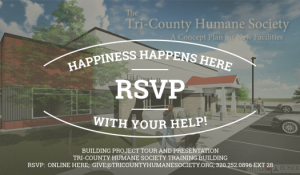 Visitors to our shelter's hallways, offices, and animal care space quickly notice the need for more and better space. Over the years as we've grown we have cobbled our space as best we could; patching here, re-purposing there, tacking on somewhere else.
Animals, customers, and staff are crammed into tight spaces. Somehow though, each year we manage to shelter more than 3,000 animals. And we find homes for 95.6% of them.
We need a new, modern facility... to do even better for them.
Please join us for a reception, tour and presentation on our capital campaign!