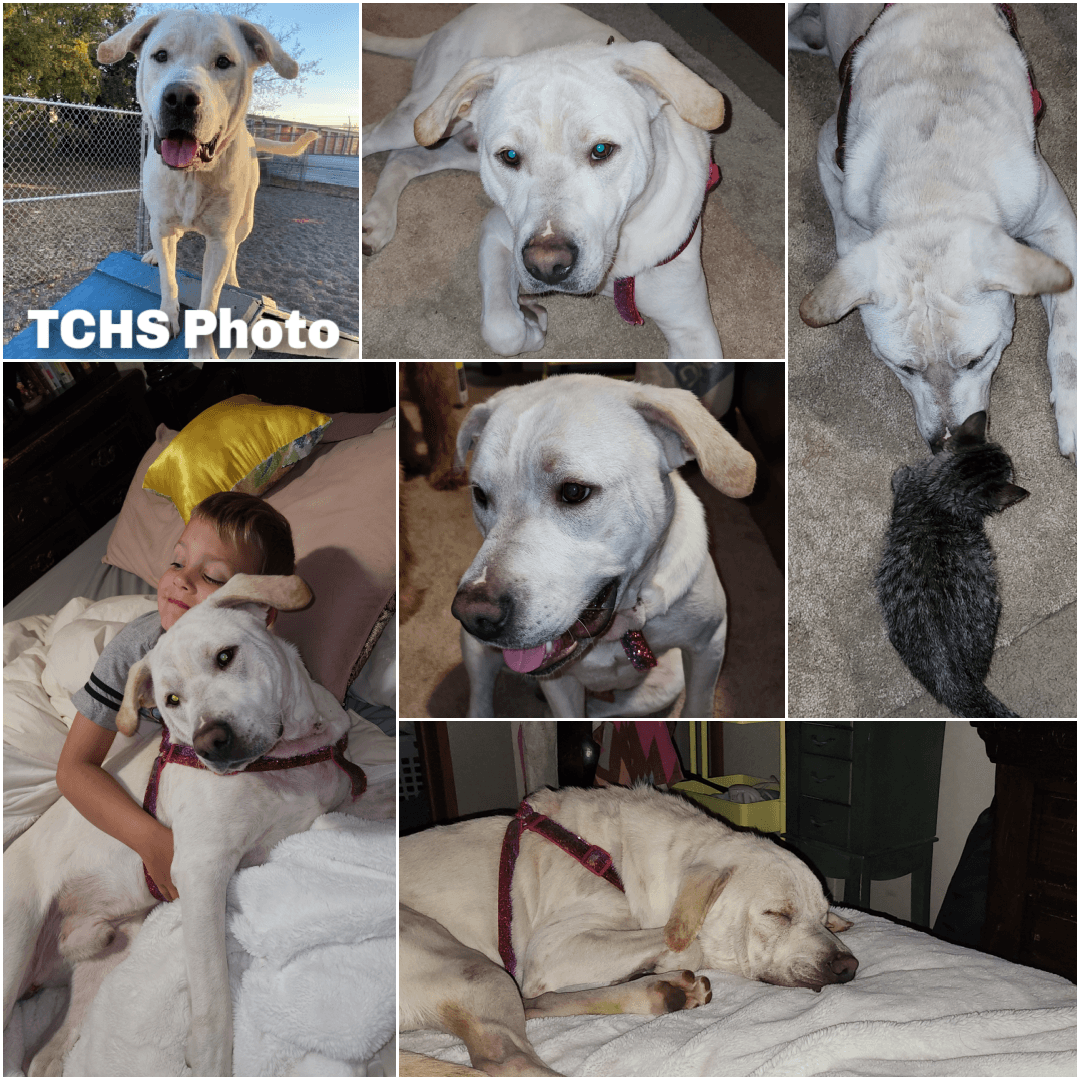 We at Tri-County Humane Society are grateful for our community's support every day of the year. Gratitude is something we talk about a lot, and we certainly feel it thanks to wonderful stories such as today's adoption story. Stripe is a 2-year-old mixed breed pup who came to Tri-County Humane Society by way of Leech Lake Legacy in late September. Stripe was mid-makeover when he arrived at the shelter; he had a non-contagious skin issue he was being treated for.  Stripe was adopted in late October; let's hear from his new family:
---
"Stripe has acclimated quite well into his new forever home, as if he was here all his life. He is so gentle, friendly, energetic, and seems so happy. He does well with all other animals; he plays outside in his huge 1-2 acre fenced-in backyard, running and having fun with the goat, the pig and the Great Pyrenees. Stripe is not food aggressive and is very friendly to his 6-year-old buddy who loves him dearly. Stripe loves his chewy toys, and Mamma pays the price when she forgets to leave one with him (he likes TV remotes LOL) - only if he's left alone he has a bit of anxiety, which is expected. He doesn't mind his kennel when Mom and siblings go to work/school; he knows Mom comes home on lunch breaks to get him a potty break, a run, and water. Stripe's patches continue to grow back in, neuter site and under neck area all healed up! Thank you so much, Tri-County staff, for all you do! I hope that each day you feel rewarded in your job because animals like Stripe need your help finding new families to love them."
---
We do know it, but it's always nice to hear it! And speaking of thankful, how thankful must Stripe be? It's a doggie's dream! Everyone, enjoy your holiday weekend!
---
"Forever on Thanksgiving, the heart will find the pathway home."  Wilbur D. Nesbit