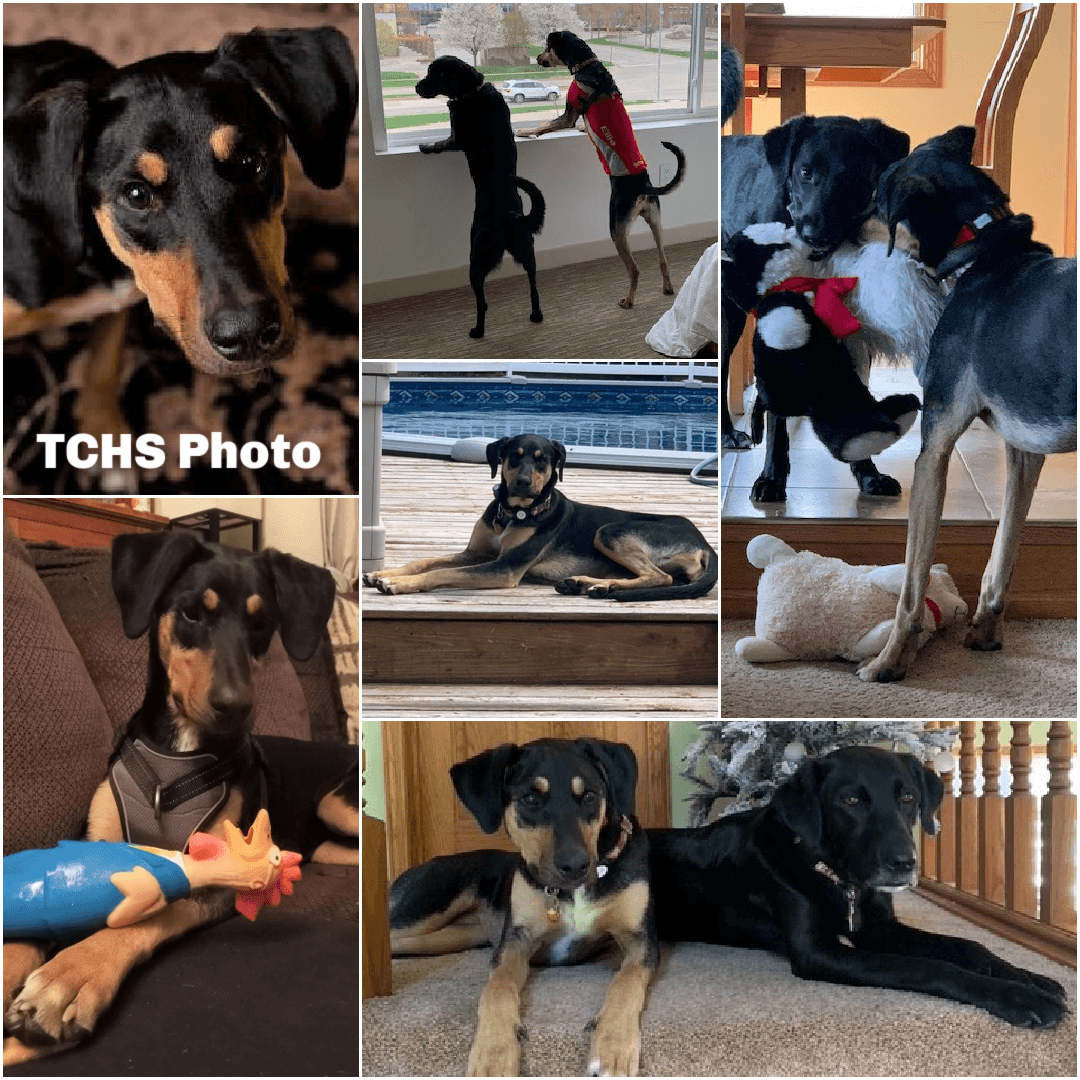 Forgive us if this adoption story is a little lengthier – this is an epic tale in every sense; even the dog's length of stay with Tri-County Humane Society was way out of the ordinary!
A young dog named Ellie came to Tri-County Humane Society in May 2021. She spent almost a full year with us, finally getting adopted in March of this year. Our average length of stay for dogs is closer to about two weeks or so, so Ellie definitely stood out!
Luckily for her, she spent most of that time in a foster home to get some socialization. Her foster worked very hard with Ellie to try to grow her confidence, taking her to classes and having her try new experiences. Ellie was often seen being comforted by her ESC – her Emotional Support Chicken rubber toy.
Ellie had many meet-and-greets during the time she was in the shelter's care, but she never found the right connection – until March. Some things, like this match, are definitely worth the wait!
---
"We wanted to share a quick update on Ellie! After spending time getting to know her in foster care, (she had wonderful foster mamas!), we brought her home the middle of March to live with us. Surprisingly enough, she settled in with the family and our resident Tri-County alumni doggo rather rapidly!  Ellie and Callie (formerly Coraline from TCHS, November 2018) love racing zoomers around the backyard and playing at liberty now that she has trained to the electric fence.
Family life is going well…. We have a long way to go on our worldwide journey, but we have learned many new things! (Specifically that the electric garage door will not eat you!) We also learned she is a bed hog and will steal your blanket if given the chance!
Ellie has proven to be a good traveler and has been on a long weekend family visit complete with hotel stay!  Electric doors and elevators were interesting experiences.
Ellie is quite the goofball and always up to see what is happening! Her ESC (Emotional Support Chicken) goes everywhere with us along with anything else she can stuff into her mouth at the same time. Thanks to everyone who had a hand in her journey!"
---
"Your love made it all worth waiting for someone like you."  Dean Martin