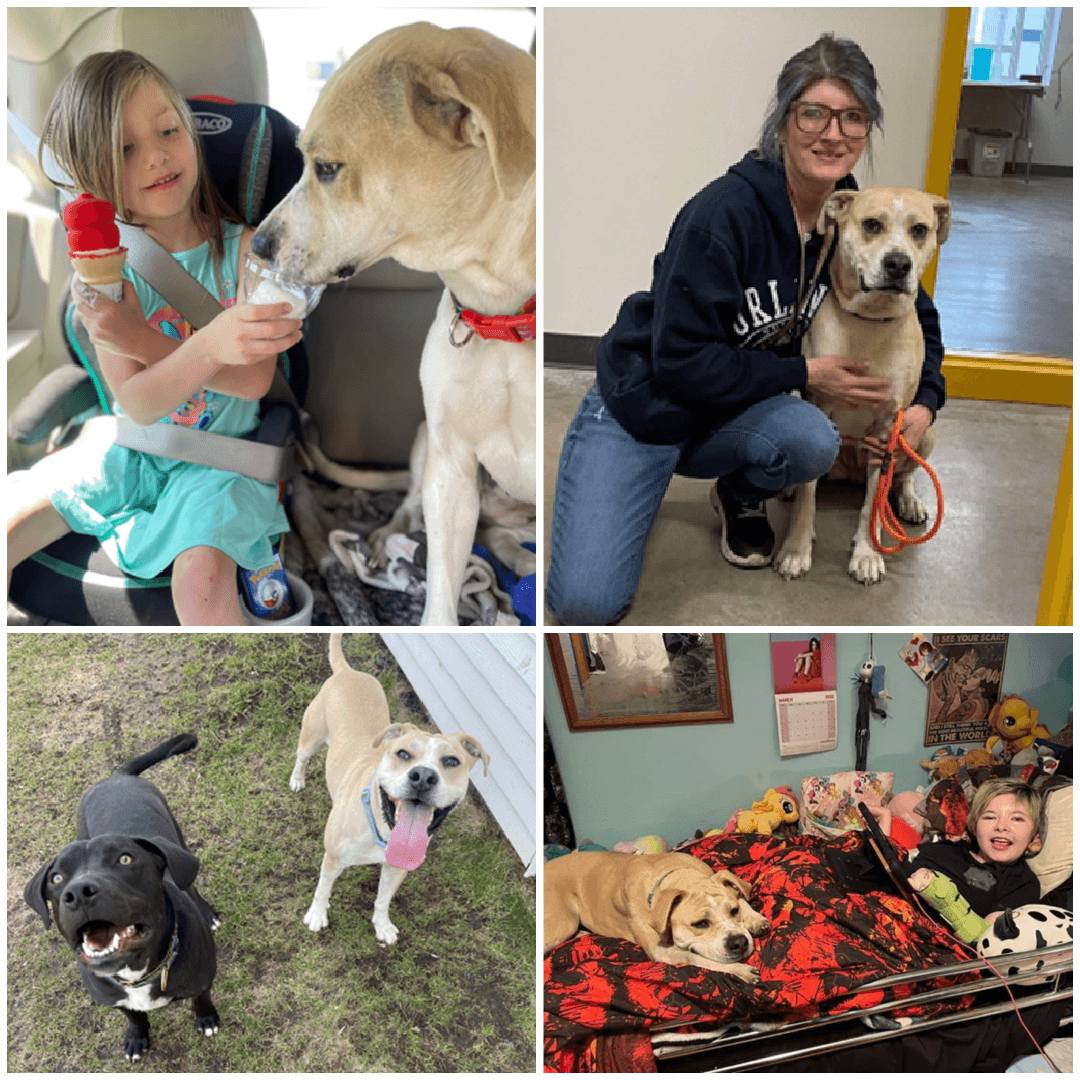 Themias was the shelter's longest resident dog until she was adopted by TCHS staffer Ashley Johnson. Let's hear from Ashley: 
---
Let me introduce you to our new best friend,  Themias. (We pronounce it like tha-my-es, but during her stay at the shelter you may have heard it pronounced many different ways depending on whom you asked!) Themias arrived at our shelter in January, and during the four months she was with us, I, like many of the other staff, fell deeply in love with her. She definitely had her quirks and acted like a goofball in her kennel, but that was a lot of show. She really is a big old teddy bear. My family listened to me talk about Themias almost daily, and she became one of my favorite parts of my work day. I couldn't pass her kennel without giving her a pet and a treat; when there were days I was having a hard time I would go in her kennel and give her a snuggle. The connection I felt with Themias was so deep, if you can be soulmates with a dog, she was mine. As I watched over the months, she would get a deposit, then it would drop, have a meet-and-greet that wasn't successful, etc.
I finally decided it was time to be an Adoption Ambassador foster for her. As fate would have it, someone else had the same idea, and she went to them and I was happy for her. A short time later, she was brought back, and there she was again. I was getting close to bringing back my current fosters, so yet again I decided to foster her. This time it worked out. I knew my family would see how amazing she was if they just got to meet her. My little one was already best friends with her from meeting her a few times at the shelter, and it didn't take long for the rest to be smitten.
On Mother's Day, she became a permanent family member in our home. She now has a best pup friend and lots of humans to love. She spends her time wrestling and running outside with our other TCHS alumni pup and enjoying car rides and cuddling with her humans.
---
Her littlest human wanted everyone to know that Themias is the best girl because she is good at snuggling and she doesn't steal food!