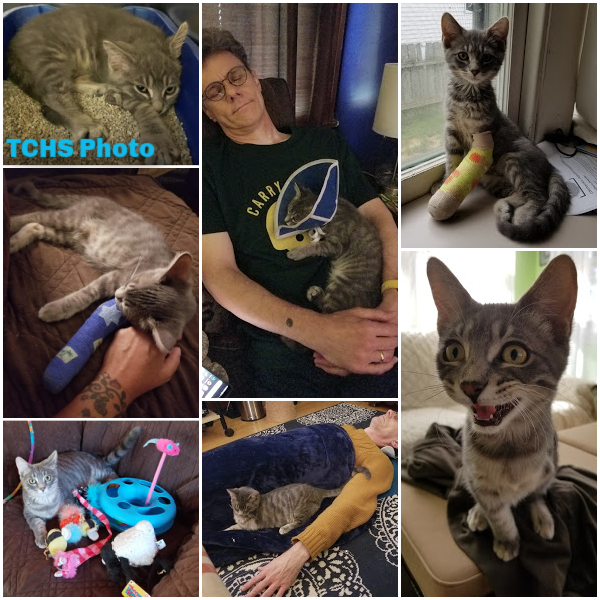 Today's charming Feel Good Fur-day comes from a relatively new but VERY dedicated Tri-County Humane Society volunteer. Catherine has volunteered for more than 300 hours in not even a full year's time – and that's just inside the shelter as a surgery assistant! She also is a foster mom for TCHS kitties; she and her husband, Karl, became "foster fails" with Kit Katz, who came in as a stray kitten in 2020. Not only did Catherine get hooked on TCHS foster care, Karl did too. Here's their story, which Catherine titled "The Ballad of Karl and Kit Katz":
---
"Over the years, Karl has been tolerant of my kitten fostering but rarely involved. That is until Kit Katz, who came to us with a severely injured leg. Kitzie was still a cheerful, playful, and affectionate kitten - whether in a cast or not. He gravitated to Karl and vice versa. Once (TCHS vet) Dr. Lottie decided that amputation was the best option to provide Kitzie the best quality of life, Karl was fully invested in his healing. They are found all over the house together: doing yoga, watching TV, or in the past with matching colors. (Every time Kit Katz had a cast change, Karl would match his outfit to the new cast color.) That should be the best part, but Kit Katz has inspired Karl to be a fully active partner involved in kitten fostering. Kit Katz and Karl is a love story for the ages."
---
And like any good love story, this one is full of ahhs and puts a smile on our face. Thank you, Catherine and Karl! Kitzie, you have a worthy role in this love story too!