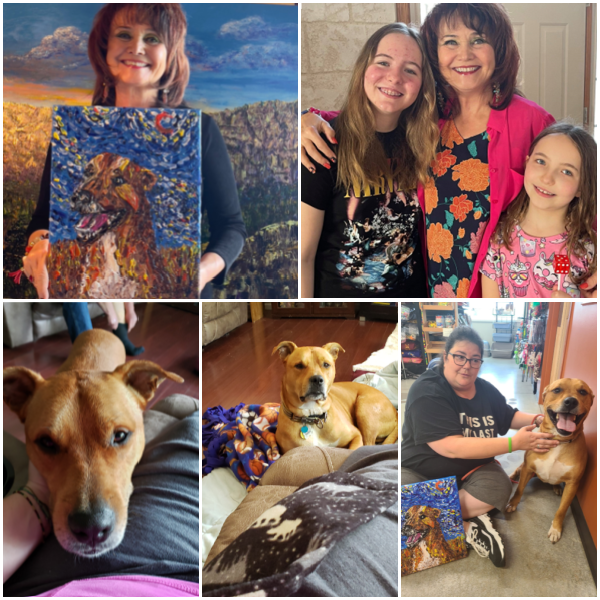 We would love to share two-stories-in-one about a recent Tri-County Humane Society dog named Tanner, who came to us as a transfer from a North Dakota rescue.
First, the artistic tail, er, tale
Tri-County Humane Society not only has some of the most generous donors around; we have very creative ones, too!
Linda Donlin is an artist from Bismarck, N.D. She was in St. Cloud babysitting her granddaughters (Madalyn and Lili) in May, and they decided they wanted to paint a portrait of a dog at TCHS who was available for adoption. Lili picked Tanner from our website and Linda obliged. Linda says that eldest granddaughter Madalyn is "counting the days until she's old enough to volunteer here" and that she is "quite an artist herself." Linda, Madalyn, and Lili all decided they wanted to donate the portrait of Tanner to his new family.
Linda shipped the painting from North Dakota to Minnesota, and her son Matt stopped by with Madalyn to drop it off.
The story gets even better: TCHS Manager of Fund Development Crystal Specht reached Tanner's adopter, Bethany, and she was happy to stop by with Tanner to pick up the portrait. The pup even sat still (for a second) with the portrait.
And last, Tanner Bear's happy home:
---
"He is such a good boy, and we are so lucky to have him! We call him Tanner Bear. He loves being in the backyard with the kids, and we took him camping …  and he did really well. He met a friend named Bella (a pitbull) and did well meeting her and new people."