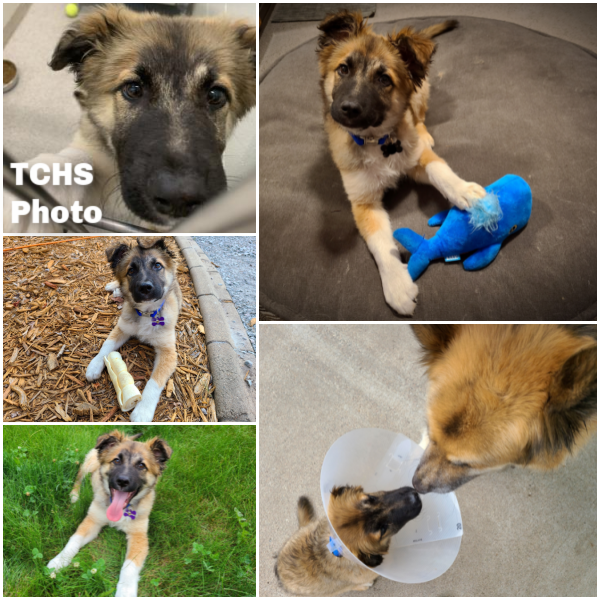 As July comes to a close, Tri-County Humane Society is getting close to 2,000 adoptions so far this year. (Not to pat ourselves on the back – but wow!) One of those recent adoptions was this shepherd mix puppy. We'll let one of his new humans, Melissa, tell the story (it's a good one):
---
"After our 13-year-old shepherd mix pooch passed away in May, we didn't have any plans to adopt another dog. We were adjusting to life without Hairy, and our other shepherd and the two cats slowly returned to their routines but continued to, on occasion, look around for their brother.
Then one night on a whim, I happened to glance at the TCHS website and saw a photo of a little shepherd mix pup. His name was Nero, and after some consideration, we decided we should at least go meet him.
Anyone who has adopted a pet knows how this story goes.
Almost immediately we fell in love with Nero and decided he needed to join our pack. We brought him home on July 1 and introduced him to his big doggo brother Chet and his kitteh brother and sister, Arthur James and Luna Moon Beam (both TCHS alums).
We also gave him a new name, and he now (mostly) answers to Mr. Blue Sky (or Blue, for short).
Mr. Blue Sky is a little burst of nonstop energy. He's adorable and silly, and he loves his squeaky toys. He's learning to master the head tilt, and we're expecting his ears to pop up any day now.
He is so eager to be everyone's friend. The other animals are still getting used to him, but everyone gets along. And he's fitting in perfectly.
Thank you again, TCHS, for helping us heal from loss with another lovable, furry friend."
Melissa and Kirk... & The Livestock
---
The grief from a pet passing is not easily relieved, even for the other animals in the household. But with no disrespect to the beloved pet who passed, nothing spells distraction like a puppy! We'll quote Irving Berlin and say that since his adoption, Mr. Blue Sky "never saw the sun shining so bright, never saw things going so right".