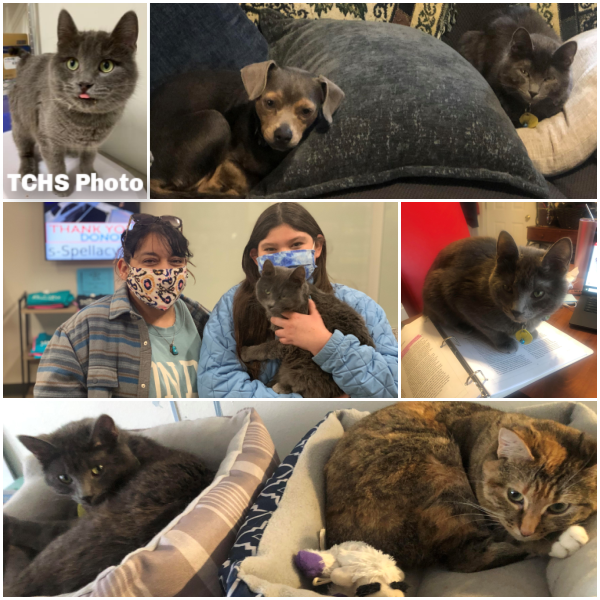 A bigger shelter means that Tri-County Humane Society can take in more animals. In fact, so far this year, we've taken in 514 transfers from other organizations; in all of 2020, TCHS had 209 transfers. We're grateful this new space, which opened in September of 2020, means we can help our rescue partners from outstate and other states, and in turn help more animals find homes.
One of those transfer stories is featured in this adoption story. A 2-year-old cat named Skip came in to the shelter from a North Dakota rescue group in early February. He found a home with humans in which not only is adopting a family affair, but so is volunteering at TCHS: The mom and daughters team regularly volunteer to help at the shelter.
---
"Our family adopted (the cats) Skip and Clarey from TCHS. Clarey came first. She is my oldest daughter, Amaya's, cat. She was my daughter's very first kitty of her own. Skip was adopted a few months later, and he is my youngest daughter, Sharonrose's, kitty.  It took them a bit to get to know each other. It's cute to see them play together. Clarey and Skip get along with our dogs as well. They have brought great joy to our home and we love to give them cuddles. We are so happy they joined our family!"
---
Some may claim adopting an animal is one of the perils of volunteering at the shelter. Others think of it as a bonus!  However the family member is gained, we support the process and outcome!