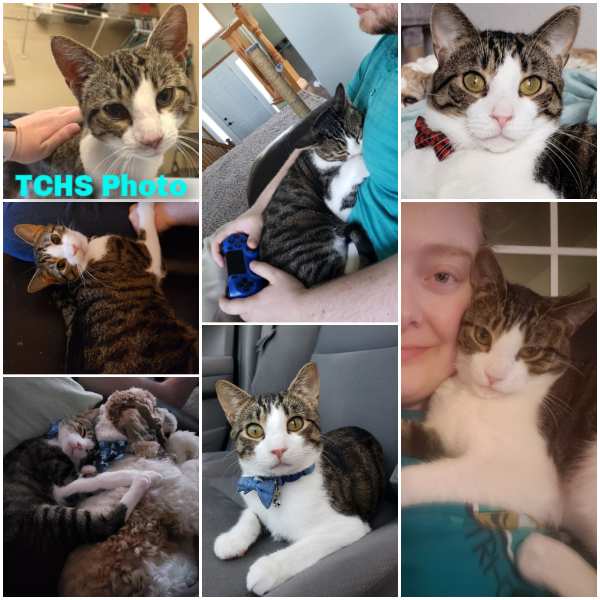 We often hear, "how do you not take them all home?" Well, housing situations and city laws (not to mention spouses/partners/roommates) stop that from happening! However, every now and then, a staff member can't resist adopting one that has tugged at their heart. This is one of those stories. We'll let Taylor tell the tale about her "Oakie boy," a 2-year-old cat formerly known as Matrix:
---
"Oak came in as a stray to TCHS, emaciated and sick (in June 2020). Despite being sneezy and congested, he has always been the most snuggly, outgoing cat I've ever met. When his congestion still wasn't improving, I decided to take him on as a foster. TCHS went above and beyond, testing him twice for FIV/FeLV, paying for two chest X-rays, and even having his sinuses flushed under anesthetic (yuck!). Turns out, he is just always a bit sneezy, but it certainly does not slow him down. He immediately loves everyone he meets, always willing to groom the dog or snuggle on the couch. I am so thankful to TCHS for providing for his care and letting me adopt the most amazing cat ever!"
---
We, in turn, are thankful for our staff, volunteers, fosters - our entire exceptional team that helps us give these animals another chance!  And I'd be remiss to not include our donors in our show of gratitude. Thank you to you, those who provide us with the resources to do this good work. We make a pretty nifty team!