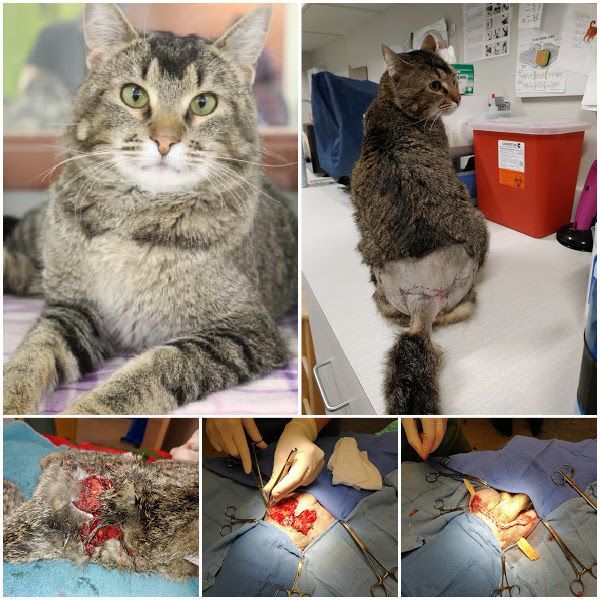 This adoption story takes a bit of a different spin from those prior. Thereby I expect to give you a deeper look into our work and in doing so, hope we don't spoil anyone's appetite!
Tri-County Humane Society often goes above and beyond in medical care for our animals. In fact, we do this so often it's almost become second nature for us – but really, it's a remarkable thing for a nonprofit independent animal shelter whose ability at one time was to provide no more than an ear cleaning and one vaccination before sending them out the door.  So, I'd like to share this story and maybe you'll see some more like this in the future unless I get feedback that tells me it's too graphic. I want to share some of these stories, for two reasons: One, OK, to brag a bit (hey, we're modest most of the time), and two, to show all our friends the impact that their donation dollars can make.
Allow me to introduce you to James, a 1-year-old cat who came in and was seen by Rose, our Certified Vet Technician. She noticed that this kitty wasn't feeling well. Upon taking a closer look, Rose noticed that James had a massive abscess and infected area over his hips. TCHS vet Dr. Gina Kobluk performed surgery on James. He was then set up with antibiotics and pain medication and sent to foster care so he could focus on recovering. James indeed got better, returned to the shelter, and found his home March 2!
We're so thankful that we have the dedicated and talented staff and foster homes to help heal these pets so they can move on to bigger and better things - like a new home!