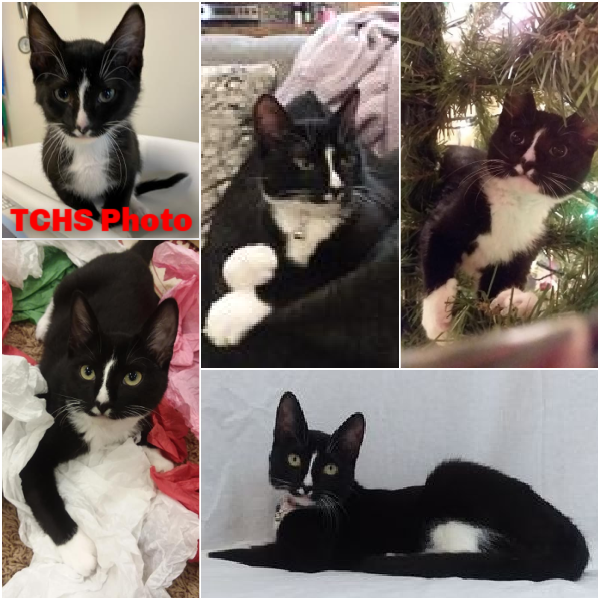 This story is about a Tri-County Humane Society alum whose two names were both inspired by cartoon characters. Leonardo came in to TCHS as a kitten with this three brothers; they were named after the Teenage Mutant Ninja Turtles. The little guys, who were found outside, spent some time in foster care to get big enough for adoption. Leo was considered the most outgoing and sweet of the litter. He found his home five short days after returning to the shelter. Now he's six months old, with a new name; let's hear from his family:
---
"Hordak is named for a character in 'She-Ra Princess of Power,' a favorite cartoon of my youngest daughter.  He is fun, feisty, and if you ask his 17-year-old brother Maddy living up to his namesake." (Hordak is a villain in She-Ra's world.) "His favorite thing to do is sit in the sink or Jacuzzi tub, usually with water in them. He loved his first Christmas tree.  He doesn't like laser pointers but LOVES his foam balls, bouncy springs, and my collection of houseplants.  Sadly, the houseplants will never be the same.   He loves to be carried around and, when tired, plops down on the nearest lap and kneads huge kitty biscuits.  He has such a big purr for such a tiny body.  Hordak has been a lovely addition to our family; he keeps us entertained for sure.  Thank you for giving us the opportunity to adopt this little nut; we love him!"
---
Wonderful to hear how well you've settled into your new home but take it easy on the plants, Hordak!