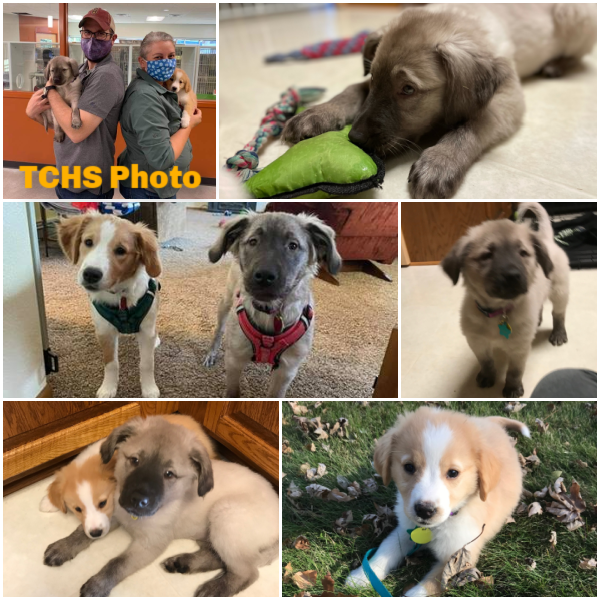 Is there anything cuter than a puppy? Why, two puppies, of course – and they're bringing great joy to two longtime friends of Tri-County Humane Society. A couple whose business, Kloster Collateral Resources, often sponsors TCHS fundraising events recently added two Border Collie and Golden Retriever mix puppies to their pack.
---
"We adopted Izzy (Isabelle - orange/white) and Juno (Juniper - gray) from TCHS in November. The statement 'who rescued who' comes to mind. We had recently said goodbye to our 14-year-old black Lab mix, Belle. Although these two haven't taken her place, they have filled our hearts … let's be honest, they stole our hearts! I was smitten from the first moment I saw them. I mean seriously, look at those faces! Now at 5 months of age they are doing great! They love running around the house, playing in the snow, getting belly rubs and treats, giving kisses, and learning new things.
It's amazing how different and unique they are, not just in coloring. Izzy is sweet, smart, and sometimes a bit sassy. Juno is curious (the first to check something out), cuddly, and an amazing acrobat. She can be a little stubborn sometimes, too. They complement each other perfectly and I couldn't imagine not having them both in our lives. We will be forever grateful to everyone at TCHS for bringing them into our lives!" – Brooke and Dennis.
---
We're lucky these two are so involved with TCHS – we'll get to watch Izzy and Juno grow up! This is how you double the pleasure and double the fun!