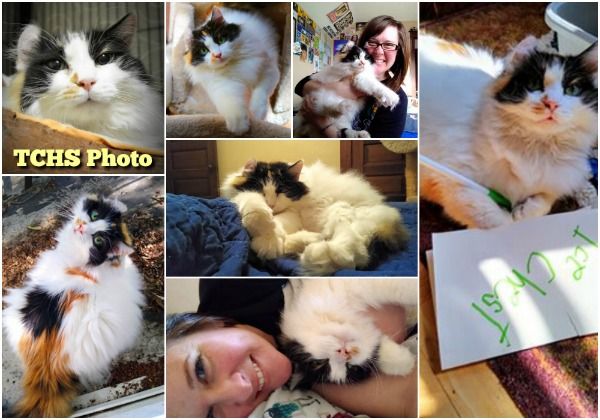 This is a story about a big cat who got a unique name in her new home – and boy, is her new family happy they adopted a senior cat ("Kittens are overrated," her new human joked). She didn't have to wait long to find her people; she was adopted about a week after she came in.
"She is 15 pounds of pure fluffy grandma kitty love," says her new human. "She loves belly rubs and I'm fairly certain she thinks she's a dog. She has giant snowshoe paws and has a purr box that can be heard from East Africa. I'm absolutely in love with her."
And as for that new name – well, it's Ice Chest (sometimes Chesty for short)!
"Originally we tried to find an old-lady name being we adopted a senior cat ... Agnes, Marge, Beatrice... nothing stuck. Then I thought, what about nouns? Broccoli? Whisk? ICE CHEST!? I really can't take the credit ... my husband suggested it while I was rambling off names and I laughed so hard and said, 'ICE CHEST!?!?! Dear God, we have a winner.' "
At TCHS, we thought we had heard every possible name for a cat, but Ice Chest takes the (frozen) cake! Thank you to Chesty's family for giving her a great home and a great name!