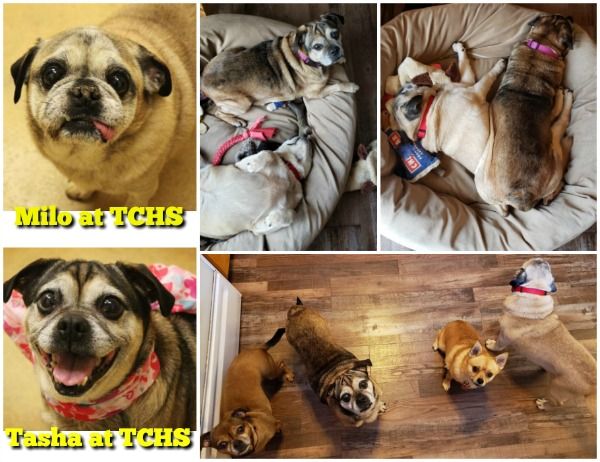 Milo and Tasha are two best friends who came in together and we wanted to do everything in our power to find a home for them together.  At age 12 (Milo) and 11 (Tasha), the two were definitely in the "super-cool senior" category plus unfortunately not potty-trained (yikes!). To add to that, Milo needed some pretty extensive dental work. However, we felt confident we could find one home for the two dogs AND take care of Milo's dental needs. Like a lot of TCHS successes, it took a community to make everything come together.
Dr. Amanda Craft of Animal Haven in Little Falls did Milo's dental work, and longtime TCHS supporters C & H Truck Repair made that care financially possible. Once Milo's mouth got a major upgrade, the two were ready for adoption, and we really hoped it would be together since they had spent their lives together.
Luckily, just one month and one day after the pair arrived at TCHS, the dynamic duo was adopted. Now Milo and Tasha have an extended doggie family, AND new names; Milo is now Max and Tasha is now Kinga. Here's the report:
"Kinga (previously Tasha) is like a puppy. She's energetic and spirited and a little mischievous. She's also quick to learn new things and eager to show us what a good girl she is. She picked up potty-training instantly. She makes us laugh all the time with her antics. Max (previously Milo) is a marshmallow. He's sweet and squishy and everyone loves him. He's the most laid-back dog ever. He loves belly rubs,  walks around the block, and 16-hour naps. Max and Kinga are getting along well with their new sisters Peggy and Stella, but they still prefer each other over anyone else. Their favorite place to be is in their big bed with Max resting his head on Kinga and Kinga laying on top of all her toys. Even as I write this they are curled up together cleaning each other's ears. We feel so lucky to have them as part of our family. We really never intended to have four dogs but something about these two spoke to us and I'm glad we listened. They are absolutely the perfect dogs for us and the perfect additions to our family."
We are so happy that these two seniors found the perfect family and are experiencing this new lease on life together!