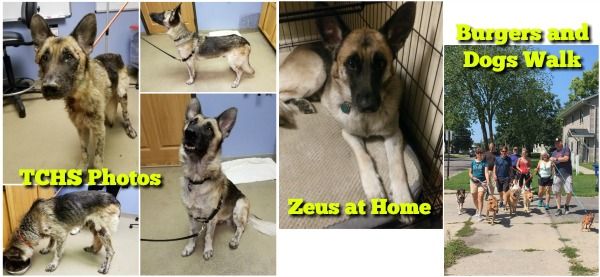 This is the story of Zeus, who came to the shelter last June. Not only was he emaciated, but he had an extremely bad skin irritation that had become infected.  He was diagnosed having Demodex mange so we started treatment. A week later the treatment seemed to be working, but the infection was bad enough to warrant continuing antibiotics for a total of 21 days along with monthly oral treatments. Zeus went to a potential adopter for foster-to-adopt until the treatment was completed. Three months later Zeus's skin scraping came back negative and his adoption was made official.
Zeus and his people were regular walkers in last summer's Burgers and Dogs events put on by Beaver Island Brewery and 7 West Taphouse. His people report he's a quiet and calm German Shepherd in the house, but when he goes to the dog park (or hears the word "park"!), he lets loose and turns into a big puppy, running around like crazy.
He's not the dog he used to be and for that we are glad!
Thanks to all of you for seeing the value in the work we do – like putting the spring back in the step of a Shepherd named Zeus!