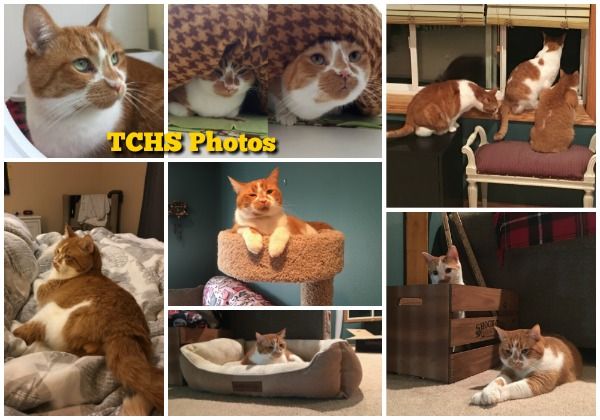 This story is about a once-shy cat who was known for hiding under his bed. He was described to us as a nervous fella who sometimes had stress-related urinary problems (not exactly a great selling point!). Orton eventually was moved from the main shelter to TCHS' Kitty Korner at 1715 1st St. South in St. Cloud. Kitty Korner was an ideal place for Orton since it's so quiet and laid-back – and without barking dogs across the hall. He quickly became a favorite of Kitty Korner volunteers, who took pictures of him hiding under his bed and peering out. (He looked like a mushroom with eyes!) Eventually he caught his adopter's attention. Well, we're happy to report that Orton is now more of a social butterfly at his new home.
"I adopted Orton in (late October) …. I visited that location three times over a period of two months and each time Orton was there hiding under his cat bed where no one could see him and each time he looked really sad. On my third visit if he was there I was going to adopt him and take him home with me. His paperwork said that he was really stressed out and didn't like to use the litter box, but I still wanted him to come home with me and be a part of our family. For the first three weeks he was really scared and shy, and would only come out to eat and use the litter box. My other two cats were really interested in him and wanted to meet him. After a few days and with some gradual introduction he was introduced to the two other cats in the house, and he got along great with them. And each week he would get more and more confident. There has never been any litter box issues and he no longer hides. Orton enjoys running around the house, taking naps in his bed and cat tower, is now best friends with the youngest cat in the house, and just enjoys living the good life. He is such a joy to have living with us and feels great that he has such a wonderful life now living in his forever home."
Way to go Orton – life can be quite rewarding when you get out and about!