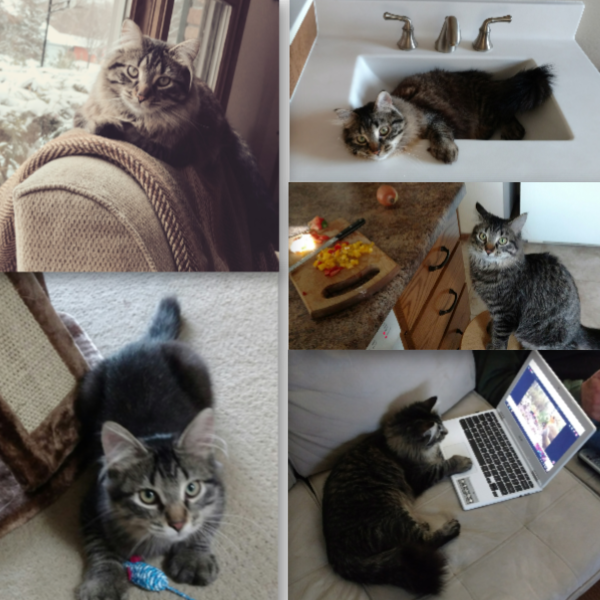 Our foster volunteers provide the home and the love for animals not quite ready for adoption for one reason or another. The role is supposed to be temporary, but it doesn't always work out that way!
Max came in as a 4-month-old stray in the summer of 2017.  This scared little guy definitely wasn't looking or feeling his best.  His fur was matted, he was very thin, he had a URI/kitty cold and he'd sit in his litterbox looking like he'd completely given up.  Off to foster care he went.  During his three weeks there, his sweet personality started to shine through and Max decided he loved to cuddle.  He got over his cold and put on weight. His mats were brushed out until his fur was soft and shiny again.  Max was now ready to go back to the shelter and find his home; there was just one small hitch:  His foster family couldn't bear to give him up!
Hear it from volunteer/foster (and adopter) Karen: "He now spends his days lounging by the window (or in the sink), assisting with dinner prep, browsing the Internet, cuddling with his humans and playing with his toys.  Max is a sweet, happy cat and his humans feel very blessed that he is a part of their lives.  Thanks, TCHS, for all you do!"
We lovingly refer to foster parents who adopt as "foster fails" – failure never felt so wonderful!