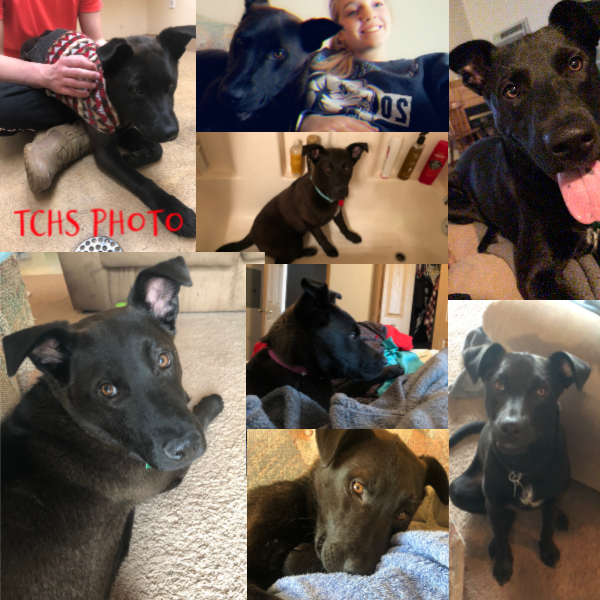 Vinny (now Zeus) was transferred to us from Leech Lake Legacy in March of 2019 and only spent 3 short days with us before he found his new family.  Here is an update they just sent us:
---
The first picture is the very first time we saw him! He was so calm and shy and didn't know much for commands. We put a deposit down went home and realized we had to have him so we came back and got him! Later that evening we changed his name to Zeus!
Zeus was EXTREMELY un-socialized and was scared of everything. We did't know anything about his past or why he's so scared of everything. He saw his reflection for the first time and at that moment he realized he wasn't a human so he got pretty upset with what he saw ! We took Zeus to the vet to get checked for heart worm and found out he was  positive for Lyme disease so he's been fighting that and since taking the antibiotics, he is able to play and run and just be a puppy.
Zeus is very picky with his people and doesn't trust a lot of them. It takes a while for him to warm up to everyone. Zeus is scared of big objects like dumpsters, poles, garbage bags, etc.  I found out that Zeus is a very smart pup. He learned sit, down, stay, up, and kennel up. He is still working on his confidence but is getting there. He is so loving and sweet.
Zeus loves to sit in your lap and rest his head against your shoulder. He loves his toys and his food! He enjoys sleeping in his kennel freely and eating hotdogs. After mom and dad come home from work or class we let Zeus out and he whines and doesn't leave our side for a little while.  Zeus also loves his big sister Lulu who was also adopted. But we all know how big sisters don't always love their younger siblings!
Getting Zeus was the best choice we made! Zeus has a lot more training to do but I have no doubt at all that he can do it!