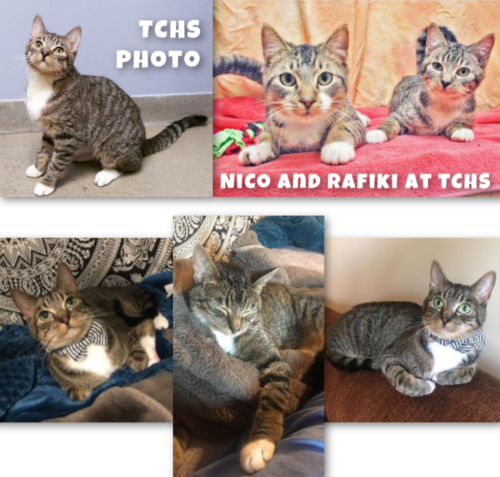 Sometimes Tri-County Humane Society animals don't get just one new beginning; they get multiple new beginnings! Such is the case with Niko AKA Frasier.
When he was a kitten, he was a long-term shelter resident called Frasier along with his "brother," Rafiki. Both kittens had some serious medical issues that TCHS staff needed to resolve before their adoptions were completed, so they spent a lot of time together – and became best friends!
Eventually they were adopted out to different homes, but Frasier returned to the shelter in April because of litter box aversion issues. Those issues stemmed from the medical-related urinary problems that Nico unfortunately dealt with as a kitten. While the shelter staff loved seeing Nico again, they knew he needed a home ASAP – he was too full of energy to stay in a cage for long!
When Nico was promoted on social media, Rafiki's human parent would post pictures of Rafiki in the comments to let us know he was saying "hi" to his former brother! Well in May, just a little more than a month later, Nico got another "second chance" and was adopted again. We hear it's going well in his new home, and he's using the litter box like a good boy! His human mom likes to put him in bow ties so he looks dapper.
Stay out of trouble, Nico!