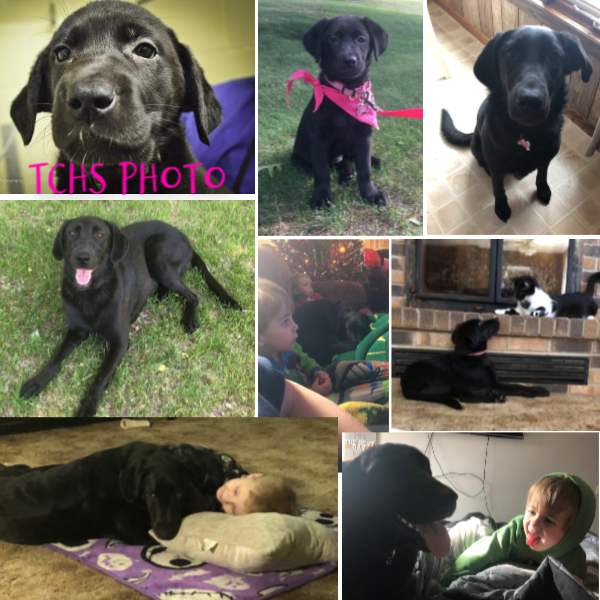 Kayla came in as part of an unplanned litter last summer. She was adopted and then returned because she was experiencing some gastrointestinal upset including loose stools and vomiting. 
We ran a plethora of tests and concluded little Kayla had a parasite called "Coccidia". She was treated and once that was over and she was cleared for adoption, Kayla found her new family. 
Here's an update they sent us:
---
Staff at Tri-County-
It has been a whole year since I popped in to "visit" your animals (like I have numerous times before) - and I came home with a lab puppy. It was meant to be!
I sat in the exam room and immediately cried when she trotted in and sat right in my lap. I could NOT say no to those beautiful eyes. Kayla came home to a sprawling farm - with all the room a dog could wish for to run, all the things to chase, an older dog to guide her, a tractor to follow, field mice to chase, and a family of 4 that adores her.
She settled in quite quickly - she was 100% potty and crate trained within a few months. I made sure to train her- touch her paws, her tail, make sure to put my hands by her mouth, and knowing I had little kids around, I purposefully put my hands in her food bowl while she ate so she wouldn't become food aggressive.
Kayla is the sweetest dog- she loves belly scratches, sleeping on the furniture, laying in front of the A/C in the summer, fireplace in the winter, and getting bones from the meat market. She loves other dogs, attention, and is the best animal when it comes to having a 5 year old and 3 year old around.
Her and her "cat brother" Archer (who we also adopted from Tri County around 2 years ago) don't always get along….they love to swat at each other. However, they also sleep together on the couch. Her favorite past time? Sleeping under the trampoline on a warm summer day, and swimming in our pasture pond.
I cannot imagine life without this girl, and am so thankful I walked in to visit that day. Looking forward to the many more years we have with her…all thanks to the work you all do.