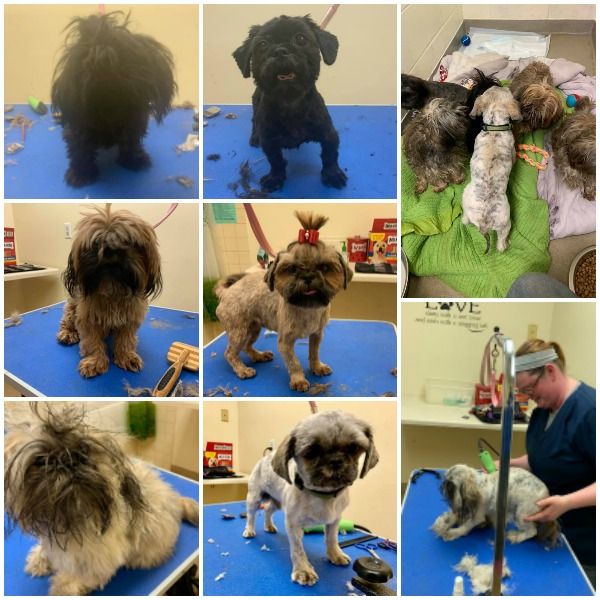 Here's a (lovely) story indeed.  Tri-County Humane Society (TCHS) had a recent adoption success that shows what can happen when the whole community – staff, volunteers, and well-meaning members of the public – come together.
In late March, community members in the Luxemburg Township area discovered seven seriously unkempt Shih Tzu dogs romping about. Their hair was matted and dirty, and they just looked uncomfortable.
Normally with animals designated as strays, TCHS can't alter their appearance in case an owner is looking for them. But these dogs were in rough enough shape that TCHS staff felt it in their best interest to relieve them of the mats and long nails.
They quickly bathed the dogs and called in volunteer groomer Shelby Gunderson to clean them up. Shelby came in immediately after her day job at La Dee Dogs to start work on the dogs. After a day, their nails were trimmed and hair was styled, and they looked and acted 100 percent happier. TCHS staff was eager to see if the dogs would be eligible for adoption right away or if they would need some socialization time – well, they were happy and bouncing around almost immediately (after their makeovers, that is).
Named for seven members of the "The Brady Bunch," Peter, Bobby, Cindy, Jan, Alice, Carol, and Marcia were spayed or neutered after their stray time was up and they all quickly found homes.
TCHS is thankful for members of the public who know that helping animals get a second chance is our passion, as well as for our dedicated volunteers such as Shelby. The Brady Bunch went their separate ways, but we know their next chapter will be a happy one.