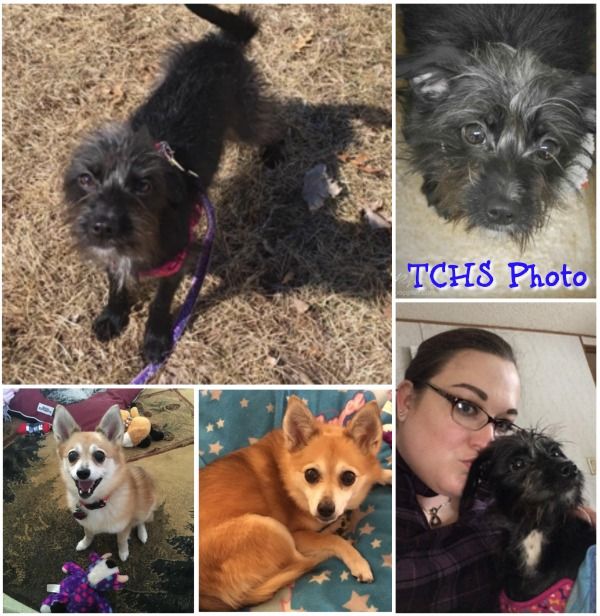 Baylee came to us in March because her owners realized having a pup was more work than they anticipated. She only spent 2 short days with us before finding her new best friend. This is another example of how, with your help, we're able to make happiness happen! 
Hi, I wanted to give you an update on Bailey (now Baylee) that we adopted last month as well as share my story about my previous dog I adopted, Chalupa.  
On April 12, 2007 I walked into TCHS on my 18th birthday to adopt my very own dog- a little Chihuahua/Pomeranian mix who I named Chalupa.  I remember my mother asking me, are you sure this is the one you want?  I nodded.  She was mine, and I was so excited.  She bonded to me quickly and we became best friends.  She was playful and had a diva attitude- we did everything together.
I have struggled with severe depression and anxiety since I was an adolescent, and in my early 20's I went through a very dark period in my life.  Chalupa was there for me- honestly, when I didn't care about anything else and became suicidal, I stayed alive for her. She was my everything.
As Chalupa aged she began to have health problems- first megaesophagus, which meant her esophagus no longer contracted properly and I had to feed her food in slurry form- then dilated cardiomyopathy (enlarged heart).  Last year she nearly died after developing immune mediated thrombocytopenia- meaning she had no platelets in her blood.  A three day hospital stay and months of blood draws and medications- until right before Christmas she went into remission.  It was my Christmas miracle.
Then on March 10, 2019, I woke to find her breathing heavily and refusing to eat.  I knew something was drastically wrong.  We rushed to the vet to find she was in heart failure- and the medications they could use to bring her out of it and extend her life failed to work.  I had to say goodbye to my beautiful baby girl, and held her in my arms as she crossed the rainbow bridge.  My heart was shattered that day.  I didn't know how to live without her.
The next week was the hardest week of my life- adjusting to life without my girl. There was a giant hole missing in my heart, in my life.  I knew no other dog could ever replace her- but could at least help me begin to heal.  So the following week, we went back to TCHS, and I found a little black scruffy terrier.  As soon as I looked in Baylee's eyes, I knew she was the one.
Baylee has been a shining light in the darkness of losing Chalupa.  She is so incredibly sweet and playful- and just wants to love and be loved.  Even though it's only been a few weeks since she came home, she fits into our family perfectly.  And while I miss my Chalupa dearly, Baylee gives me a reason to smile again.  She is my shadow, she follows me everywhere and snuggles with me under the blankets at night.  She loves our Flemish Giant rabbit, Chief- although he is bigger than her, she always wants to play with him.
Thank you TCHS, for all that you do- I have you to thank for twelve wonderful years with my girl Chalupa, and now many years to come with Baylee.