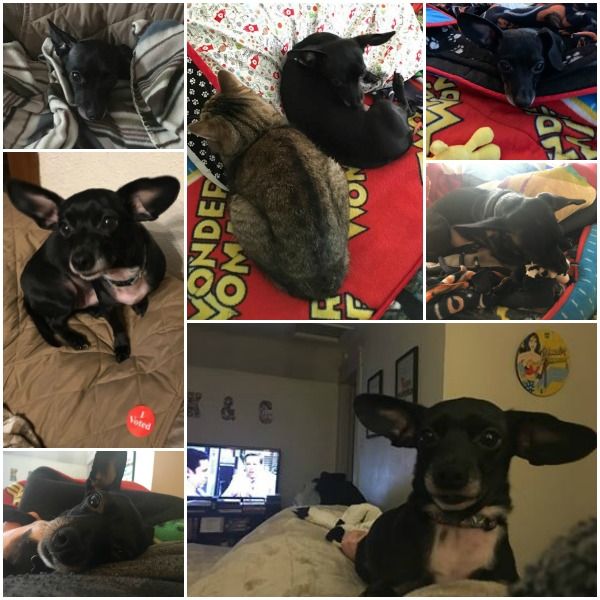 This adoption story comes from Kate Kompas, Volunteer and Events Coordinator at TCHS:
"One of the best things about working at Tri-County Humane Society (TCHS) is that I get to see adoptions happen most days, and sometimes even help write people's adoption stories to share them with TCHS friends.
I'm biased – my favorite adoption story is my own. About six months ago, our animal care manager put a little dog in the conference room to get some socialization. I had had cats for most of my adult life, including two adopted from TCHS. (My mother has an intense dislike of cats so I wasn't allowed to have one as a kid – that was my way of rebelling, by adopting cats when I left the house!) I had always planned to get a dog, but I pictured a big bouncy Lab mix type. Instead I fell in love with a stray dog whom staff named "Augustus," who is an 8-pound Chihuahua and Dachshund mix. After he sat in my lap for an hour in the conference room, I texted my husband saying I needed to bring him home.
Now named Dexter, my little dude is a joy every day. He (mostly) peacefully co-exists with his cat sisters and brother, he loves his car rides, regular walks, occasional bits of string cheese, and playdates with other doggies. While I love TCHS for many reasons, adopting Dexter is at the top of that list. And it just goes to show, you can't choose whom you fall in love with! I thought I'd get a big dog, but a little creature who is smaller than all three of my cats captured my heart."