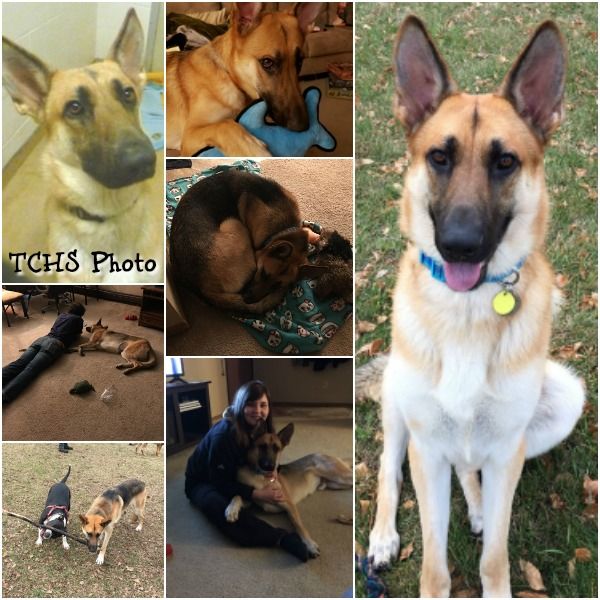 Zeus came to us last year in August because his previous owners were unable to manage his epilepsy.  After some testing and evaluation from our staff veterinarian, we were comfortable finding him a new home to call his own.  In all, Zeus was with us for 17 days before hitting the jackpot with his new family.  Here's their update:
To the Tri-County Humane Society,
We adopted a dog named Zeus which we quickly changed to Theodore. I'd like to think it's a new name to a new beginning in life. When we first met him we fell in love instantly. We didn't just choose him he chose us, literally (when we were petting him in a separate room he grabbed his own adoption papers and tried to run away with them!) After that day he was ours and we were his.
The first month we had with him was a struggle. He seemed so anxious he couldn't relax and constantly paced back and forth. He hardly would lay down for more than 15 minutes and this was with us exercising him 3x a day. Theo also had no prior training so we had to start from scratch teaching him simple things like shake and lay down. Even house manners like not jumping on the counters and the table! It took him awhile with the training until he started to listen to us better. We still are working with him with his training to this day because he is technically still a pup (we have had him for 6 months already). He is doing much better now and it's incredible to see the transformation he has made since then. He only needs exercise 2x a day and doesn't pace anymore, he also relaxes and naps for up to 2 hours at a time now! He's turning out to be an amazing pup!
Another big thing we have been working with since we adopted him was trying to control his seizures. Theo was originally brought in because his previous owners couldn't handle a dog with epilepsy. We knew this would be something a little more difficult to handle going into. It turned out, it was really difficult. The triggers for his seizures are unknown but I think stress may play a factor. The first couple days we had him he was fine. It was on the 4th night that he had a couple seizures which weren't a big deal because they were just small ones that didn't last very long. It was the next morning that was more stressful than we had thought it was going to be. He started to have seizures again... and they wouldn't stop coming! He had little ones and a couple of grand mal seizures. This was really difficult to watch because you can't do anything when an animal seizes except time it and wait it out. We brought him into the vet immediately and they upped his seizure med dose. We also looked into CBD oil capsules that we now give him twice daily along with his normal medications. We are happy to say his seizures seem to be well under control and he lasted 5 months until he has had another one. A couple weeks ago he had two but no seizures since then! We think he is doing much better and it makes us so happy he can live a normal puppy life!
No matter the medical condition this guy has, we still love him and won't give up on him! He is family after all! I made a promise to him that he won't ever be left alone again… especially in his condition. He's a real happy boy and I love seeing his puppy smile and his tail wag uncontrollably every day. Even though we struggled a bit in the beginning when we adopted him, I think it was well worth it in the end. Theodore is a great addition to our little family. 
Stefanie and Alex
P.S. We really appreciate everything you guys do for these animals that are looking for homes. You guys are really awesome! Thanks so much to the Tri-County Humane Society!