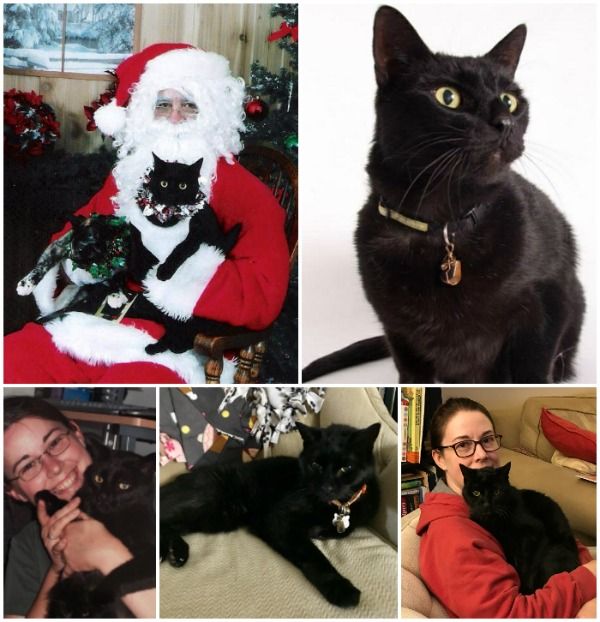 This is a loving tribute to a cat who found his way into his human's life and stayed there for many, many wonderful years. 
"In 1999, I was in graduate school at St. Cloud State. I wanted a kitten, but I didn't have much money. One day, I won $100 on nickel slots, which I took directly home so I could get a kitten from the Tri-County Humane Society. I selected a tiny black kitten (oh my goodness, those big, beautiful yellow eyes!), and I named him Anakin.
Over the years, he and I had a lot of fun. He loved to greet people at the door, which made him very popular on Halloween. The kids loved him. One day, he initiated a game of fetch. (Maybe he was actually a dog?)  He yowled like crazy when he was behind a closed door or just didn't know where I was. I wasn't been able to have a Christmas tree for 19 years because when I would put one up, he would knock it over. Every. Day.  I didn't mind forgoing the Christmas tree because I loved him more.
He had health issues throughout his life, but he overcame them and thrived.
Until he didn't.
Sadly, in September, his liver and kidneys began to fail him, and he was struggling. My dear, sweet, funny, affectionate kitty passed away in the early morning of October 25. He lived 19 1/2 years. 
We stood side by side, nearly all of my adult life. He was so very loved, and now there's a big void in my heart and home. I cherish the time that we had together and I don't regret a thing. I'll always remember cradling him as I lifted him out of his cage at TCHS, and he'll always be special to me. I'm grateful to the Tri-County Humane Society for bringing us together."