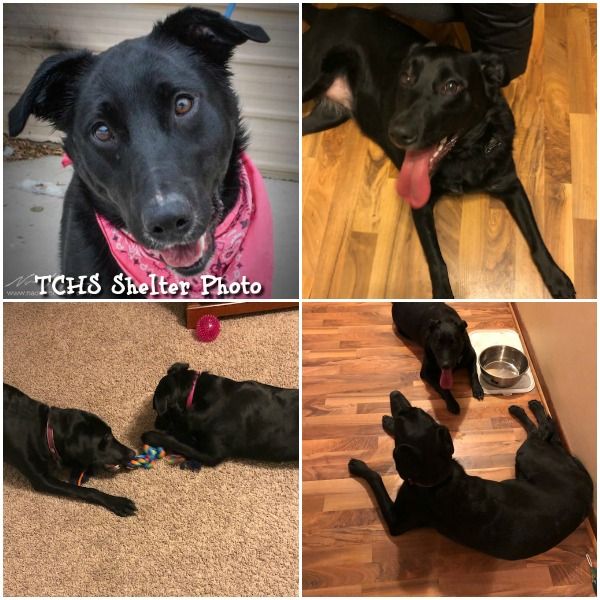 Ivie went from kennel kooky to a total cutie in her new home! Ivie came into TCHS in early January because her previous owner moved and couldn't bring her along.
The 2-year-old Labrador Retriever/Australian Cattle Dog mix was crabby in her kennel and didn't get a lot of second looks because of her barking and seemingly bad 'tude. But outside of the kennel, she was a complete sweetheart, and quickly befriended TCHS staff and volunteers. One of those volunteers fell in love with her and visited her regularly for some special playtime outside the kennel. She and her family (her son also is a TCHS volunteer) decided they simply had to take Ivie home. Here's a report from them:
"She is doing good and she is adjusting well. She has only barked a couple of times and that was just when she heard a noise she didn't know what it was and we just tell it's OK. She is a pro at running up and down our stairs and she loves playing outside in our yard despite all the snow. We've gone through a lot of tennis balls and ropes already. She loves car rides and jumps in and out with ease. She is very good with our cats. She plays with our other puppy (Luna who is 10 months but 75 lbs already) a lot and they are like bff's, always following each other around. We couldn't ask for a better dog that fits with our family and completes our lives."
Sometimes TCHS volunteers become TCHS adopters! Thank you to everyone who gives their time to make animals' lives better.