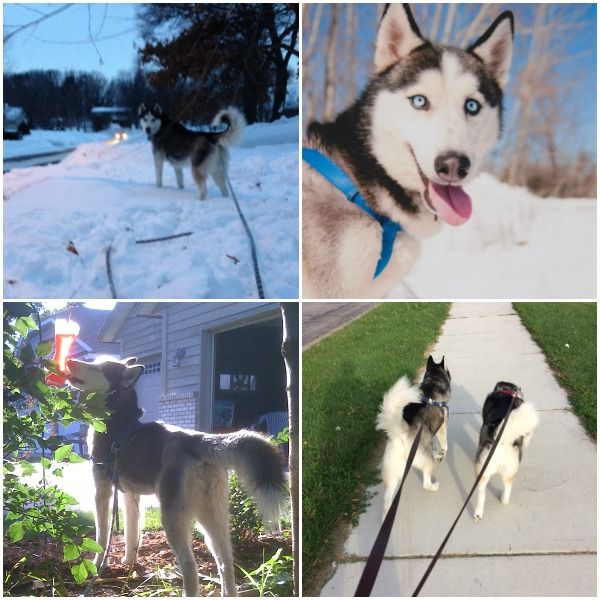 Kratos came to the shelter at 1.5 years old, he was too high energy for the family to deal with at that time. He was adopted and returned a few days later because he needed more exercise than they could give him. The very next day a family came who had just said goodbye to one of their huskies and needed a new friend for their remaining dog as she had separation anxiety. They took Kratos home, and he fit perfectly! Now he and his new "sister" are nearly a matched set.
Here's an update from his family:
"Kratos, now Harmon, was there when we needed him and for that we will forgive all of his other craziness! His sister's separation anxiety is so great she cannot be left alone, thankfully it doesn't have to be another human. So when her older brother passed away, we had to find a replacement ASAP.
Harmon loves his "sister", and she loves him in the way a teenage girl loves her 10 year old brother. It's easy to see how he ended up at TCHS, he is a bit of a handful. His favorite game is "chase me, sister" and she will comply several times a day. After that he's calm for a while. The colder and snowier the weather the more energy he has, and walks can be a challenge with all the pulling. But time spent running in the deep snow helps to wear him out a bit!
As a generally typical Siberian Husky, Harmon also loves to talk. Especially when you're eating, or trying to have a conversation with someone or when everyone isn't where they are supposed to be (we all have our correct places in the living room, do not dare sit anywhere else!).
We are forever thankful for TCHS in our community, we have adopted so many wonderful family members there, even Harmon! Keep up the great work!"