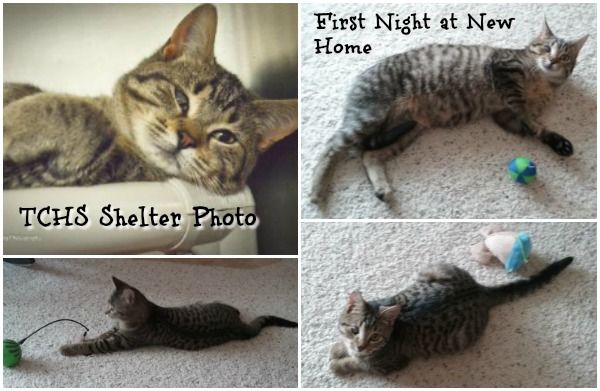 Ricky came to us in October with 2 feline friends looking for new homes. This sweet but super shy kitten hid in the back of his kennel for the majority of his stay, making it tough for potential adopters to see his true potential. After two months of TLC while being treated for parasites, an upper respiratory infection and having his eye checked out (no vision but no further care needed), Ricky found just the right home.  Here is an update his new family sent us: 
Thank you so much for everything you do for animals and those of us who love them!   I adopted Ricky yesterday and want to tell you how much your work means to me.  Almost 15 years after losing my last cat I read about Ricky in the Times on Christmas day.  I could hardly sleep that night wondering if he was still in your care; the Pet of the Week article was from the 14th.  He was still on your website so I left you a message the next morning.  I traveled to your facility to be there when you opened, even though I hadn't heard back yet.  I didn't know what I'd do if he was gone, but I had to take the chance.
I am so happy to be with him!  By last evening he was eating and playing with his new toys. And, this afternoon we snuggled on the couch, with me listening to him purr. :)  Although he is still very nervous, he has already began exploring his new home.
Thank you for bringing us together!