2016 Volunteer Awards
We say it often, and it's true: Tri-County Humane Society couldn't keep its animals well cared for, its customers satisfied or even its doors open without the help of its hundreds of committed volunteers. We're truly lucky that we have so many generous people in our (and the animals') corner.
Our volunteer program continued its tradition of excellence in 2016 with 942 people providing more than 17,502 hours of service.
Our volunteers did shelter animal care, dishes, general cleaning and everything in between. From delivering posters marketing special events to scooping litter boxes, every bit of work helped benefit the animals. We're so grateful to all of them for taking time out of their busy schedules and finding room in their hearts for our thousands of homeless pets.
We continued to offer our civil service program, too, for those who needed court-ordered volunteer hours or service learning volunteer hours (such as school projects). More than 130 people in the civil service program contributed more than 830 hours to help the shelter last year.
Thank you, volunteers, for all you do. It means the world to our animals.
Volunteer Program Community Partners: And a special thank you to our partners including Sartell High School, Sauk Rapids-Rice Middle School, Sauk Rapids-Rice High School, Minnesota School of Business, United Way of Central Minnesota, Stearns County Corrections, Sherburne County Corrections, Benton County Corrections, Opportunity Matters, WACOSA, St. Cloud Public Library, Retired and Senior Volunteer Program, St. Cloud State University's women's soccer team, College of St. Benedict/St. John's University and St. Cloud's rugby team.
Humane Education/Pet Therapy Visits: Community outreach is a major part of what we do at Tri-County Humane Society. Through the help of volunteers, we were able to increase our visits to senior care centers /assisted living facilities to 83 in 2016, up from 50 the previous year. We're hearing great reports from those visits, further illustrating the importance of the human-animal bond. We also had 50 community events, 24 birthday parties, 34 shelter tours and 43 offsite adoption events.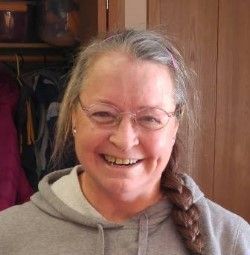 2016 Volunteer of the Year: Deb Roberts
Deb Roberts modestly describes herself as a jack-of-all-trades, and her volunteer experience reflects that. Deb has been a volunteer at TCHS for almost four years. She put in about 356 hours of volunteer time at TCHS in 2016. During Deb's TCHS tenure, she's taken on shelter animal care, including the dirty work of dishes and laundry. Her favorite volunteer duty is dog walking. "It's fun to go out in that little thicket of the woods, except when the bugs are out!" Deb is a gentle-but-firm stickler for the shelter rules, and she sets a great example for new volunteers. She also does special events, everything from Woofstock to Santa Paws to brat sales to gift wrapping. In short, if it helps TCHS, Deb is quick to pitch in. What does she like about volunteering at TCHS? "I like the positive attitude of the people around here," she said.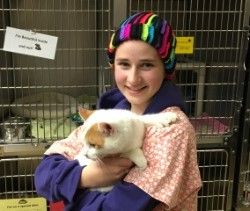 2016 Junior Volunteer of the Year: Leilani Anderson
Leilani Anderson is one of TCHS' most trusted and versatile volunteers, and she's only 14 years old. She's one of our youngest mentor volunteers, and she helps the shelter in a wide variety of ways, from shelter animal care to offsite adoptions to dog walking to special events. The Sauk Rapids-Rice High School freshman put in about 362 hours of volunteer service at TCHS in 2016. "I just like spending time with the animals and making sure they go to a good home." (She says dog walking is her favorite duty – she loves getting them outside to play.) Volunteering is a family affair for Leilani: She's often seen walking dogs with her brother Kenan, and her family fosters animals, too. (They even did some volunteer welding for some cat cages that needed TLC.) Leilani recently became a birthday party host, and she does a great job making the day special for the guests of honor. As for advice she'd give other junior volunteers, she says, "Come in and help out, but have fun doing it."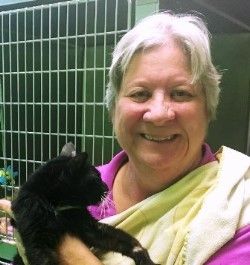 2016 Above and Beyond Volunteer of the Year: Cynthia Ryg
Cynthia Ryg has been volunteering for TCHS for three and a half years. She put in about 210 hours of volunteer service last year. Cynthia is one of the women we affectionately call our "cat ladies," and she gives special care to the cats in the isolation room during her weekly shift. Cynthia also is a frequent transporter of animals and often goes above and beyond. Animal Care Manager Andrea Jaekel credits her with helping save a lot of lives. Besides working at special events, Cynthia is a frequent foster parent. She's cared for 17 kittens so far, and she said her goal is 100. She said her favorite part about volunteering is the people, the staff and the volunteers. "I get this real sense of community here." As what as what she would tell a new volunteer, she said, "Your goal should be to find good homes for the cats, and work toward that goal no matter what it takes," whether it's in the shelter, in the isolation room or in the surgery center. "Everything we do is to bring them toward that forever home."