2017 Volunteer Awards
Tri-County Humane Society has been powered by volunteers since we started in 1974. TCHS wouldn't be able to serve the people we serve – or save the animals we save – without their help. The time and talents of 850 individuals in our volunteer program helped make 2017 another great year, with those volunteers logging 16,695 hours of service. TCHS staff, board members, friends and pets are so thankful for all of their hard work.  Outside the volunteer program, TCHS also got a lot of help, with 114 people in our civil service program (court-ordered time or school assignments) contributing 979 hours last year. Thank you, volunteers, for all you do. It means the world to our animals.
Volunteer Program Community Partners
We've had many community partners throughout 2017; here are some of them: Sartell High School, Sauk Rapids-Rice schools' Bridges Program, United Way of Central Minnesota, Stearns County Corrections, Sherburne County Corrections, Benton County Corrections, Opportunity Matters, WACOSA, St. Cloud Public Library, Retired and Senior Volunteer Program, St. Cloud State University's women's soccer team, Petco, PetSmart, numerous area nursing homes, and numerous local Boy and Girl Scout troops.
Humane Education/Pet Therapy Visits
TCHS' biggest Humane Education highlight of the year was the debut of Book Buddies, a program in which kids read to shelter animals. We added more than 50 Book Buddies since June, and we're hoping to build on that success this year. It was also an extremely busy year for birthday parties: TCHS hosted 48 of them last year, as compared with 24 in 2016. Volunteers also went on 84 visits to senior care centers/assisted living facilities in 2017. We also gave 36 shelter tours and sent animals to 33 offsite adoption events.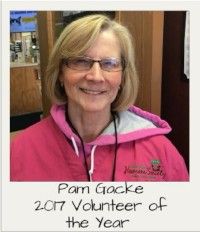 2016 Volunteer of the Year: Pam Gacke
Pam Gacke is a relatively new volunteer, having started at TCHS in late 2016. However, she quickly established herself as an outstanding part of the TCHS team. She logged almost 387 hours for TCHS in 2017. She volunteers in the shelter at least twice a week for four-hour shifts, and that doesn't count her other TCHS activities, including mailings, brat sales, animal transportation, and every single major shelter fundraiser. She's not afraid of the dirty jobs, but she also excels at customer service. And although she has a big heart for all animals, Pam always has an eye on our dogs, making sure they get vigorous walks and plenty of TLC.
---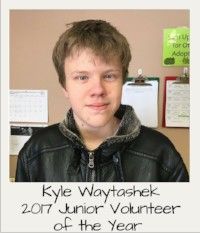 2016 Junior Volunteer of the Year: Kyle Waytashek
Kyle Waytashek volunteers with his mother, Vickie, and the pair can often be seen at offsite adoption events together. Kyle is known as one heck of a salesman – he can work in the cat room like a seasoned pro despite being only 15 years old. Kyle logged nearly 138 hours of volunteer service in 2017, by far the biggest total for junior volunteers. He's also been known to pitch in on special TCHS projects such as digital archiving.
---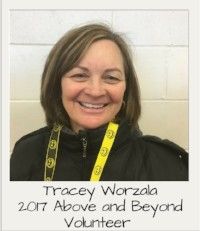 2016 Above and Beyond Volunteer of the Year: Tracey Worzala
Tracey Worzala is one of the volunteers who helps make sure the shelter is running smoothly on Sundays. A seasoned dog walker, Tracey makes sure the pups get plenty of exercise. She especially loves focusing on the "naughty" dogs, or ones that need the extra lovin'. Tracey is often one of the first volunteers to step up when TCHS needs anything, whether it be posters delivered or donations picked up. She is known to come in even on her days "off" to make sure all the dogs are walked. She started volunteering in June 2016, and she put in 203 hours of service in 2017. Like Pam, Tracey became a mentor volunteer – one who trains new volunteers – this year because of her excellent example.